WIFI Aquarium Temperature Controller ITC-306A
INKBIRD ITC-306A-WIFI is specially designed for aquarium with key features such as WiFi control, dual protection, heating alarm, out-of-box and dual probes. Note: INKBIRD ITC-306A ONLY supports 2.4GHz WIFI router.
*The final price is subject to Amazon.
Product video
Main Features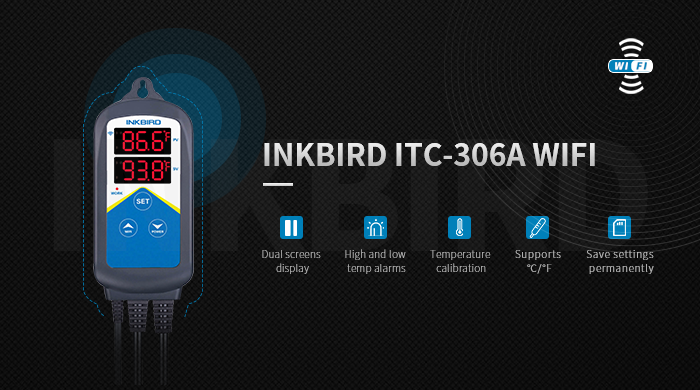 WiFi control: we can connect INKBIRD ITC-306A-WIFI with mobile phones via WiFi and its free APP, so any abnormal temperature will be alarmed on our mobile phones and we can monitor our aquarium temperature much easier and more efficiently. Note: INKBIRD ITC-306A ONLY supports 2.4GHz WiFi router.
Better protection for aquarium creatures: equipped with 2 relays, one for output control and the other one for abnormal protection, INKBIRD ITC-306A-WIFI ensures the power can be turned off under any abnormal circumstances and offer more and better protection for our aquarium creatures for water overheating.
Temperature alarms: INKBIRD ITC-306A-WIFI supports alarms for continuous heating, high-and-low temperatures and abnormal probe performance, safer for aquarium creatures, better device lifetime.
Wide time setting range: its heating time range can be from 1 hour to 72 hours based on our needs and alarm will be trigged once the temperature or the heating occurs any abnormal situation within the set time range. Its temperature setting range is 0.0℃~45.0℃/32.0℉~113℉ and its measured temperature range is -40℃~100℃/-40℉~212℉.
Dual probes design for more safety: its alarm will be triggered once the temperature difference of its two probes is over 5℉(3℃) and its APP on our mobile phone will pop up the alarm notification at the same time for more safety of our aquarium creatures.
Temperature calibration: INKBIRD ITC-306A-WIFI supports temperature calibration for more precise temperature setting, monitoring and controlling, offering more security for aquarium creatures;
No reading confusion: INKBIRD ITC-306A-WIFI supports both Celsius and Fahrenheit reading methods, it can be switched based on our reading habits for no reading confusion.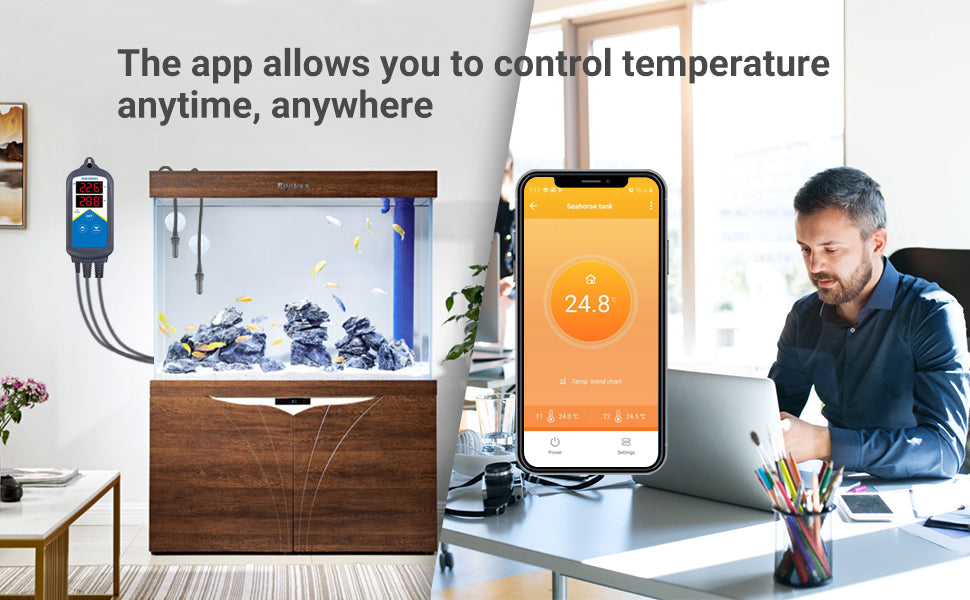 Technical Support Materials:
Please click to download the technical support materials such as user manuals and product APPs Click Here
Review Video:
Voltage: 100~240Vac 50/60Hz
Current: 10A Max
Wattage: 1200W(120Vac), 2200W(220Vac)
Type of temperature probe: R25℃=10KΩ±1%; R0℃=26.74~27.83KΩ;B25/85℃=3435K±1%
Temperature control range: 0.0℃~45.0℃/32.0℉~113℉
Temperature measurement range: -40.0℃~100℃/-40.0℉~212℉
Temperature display accuracy: 0.1℃/℉(<100℃/℉), 1℃/℉(>=100℃/℉)
Display unit: Celsius ℃ or Fahrenheit ℉
Ambient temperature: -20℃~40℃/-4.0℉~104℉S
environment temperature: 0℃~60℃/32℉~140℉
environment humidity: 20~80%RH (Unfrozen or condensation state)