Smoker Thermometer ISC-007BW
INKBIRD ISC-007BW is a wireless control smoker thermometer with functions such as one-button operation, WiFi and Bluetooth connections, data record, adjustable fan speeds, alarms and etc., which is very suitable for Big Green Egg, Kamado Joe, Primo, Vision Grill, Akorn Kamado, Weber and other smokers.
*The final price is subject to Amazon.
Product video
Main Features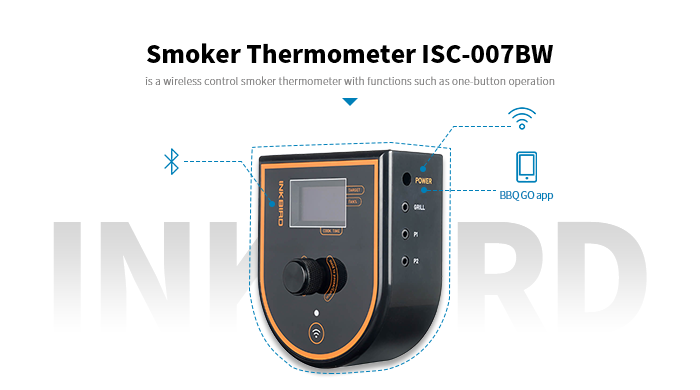 One-button design: we need only one button to operate INKBIRD ISC-007BW for all its temperature controls, easier for operation with more efficiency.
Wireless control: INKBIRD ISC-007BW can be controlled by WiFi or Bluetooth connection via its free APP and we can monitor, set and/or adjust its temperatures on our mobile phones at any time, no time to be wasted for making frequent checking, more efficient and convenient. (WiFi supported: ONLY SUPPORTS 2.4GHz Wi-Fi (Support IEEE 802.11b/g/n)
Data records: INKBIRD ISC-007BW supports data records, it will automatically save the data for us for subsequent reviews and references, which will do more help for our cooking.
Adjustable fan speed: the fan speed of INKBIRD ISC-007BW is adjustable, which will be automatically adjusted based on the temperature changes. It is more stable and precise for its temperature control, and it will do more tasty and efficient cooking.
3 food-grade probes: INKBIRD ISC-007BW has 3 food grade probes, two are for food temperatures and one for the ambient temperature. We can monitor the food temperature and its ambient temperature at the same time.
Alarms for safer: INKBIRD ISC-007BW supports alarms for the set high temperature, once the detected temperature is reaching the set high temperature, its alarm will be triggered and a notification will be sent to our mobile phone to alarm us, which is much safer and more efficient.
Out-of-the-box: INKBIRD ISC-007BW is designed for out-of-the-box and plug-and-play, easy to use, easy to move and easy to store.

Technical Support Materials:
Please click to download the technical support materials such as user manuals and product APPs Click Here
Review Video:
Size: 11.42in*8.66in*5.51in
Weight of the Controller: 6.84oz/194g
Input Voltage: DC 12V/2A
Short Time Measurement Range: from 0℃ to 300℃(32℉~572℉)
Continuous Monitoring Range: from 0℃ to 250℃(32℉~482℉)
Temperature Accuracy: ±1℃/±1.8℉
Calibration: ±12℉/±12℃
Connection Methods: support Wi-Fi connection and Bluetooth connection
Type of Wi-Fi Network: 2.4GHz Wi-Fi (Support IEEE 802.11b/g/n)
Maximum Bluetooth Connection Distance: 164ft(the distance will be shorter if there are interferences).
Waterproof: Not waterproof
Warranty: 1 year