Bluetooth Thermometer IBS-TH1
INKBIRD IBS-TH1 is a wireless controlled thermometer via Bluetooth connection with built-in sensor and external probe, high accuracy, data recording, adjustable intervals, two reading methods, magnetic design and etc., which is widely used for most of application contexts such as home, car, clothes, pets, fruit storage, cigar cabinet and wine cellars.
*The final price is subject to Amazon.
Product video
Main Features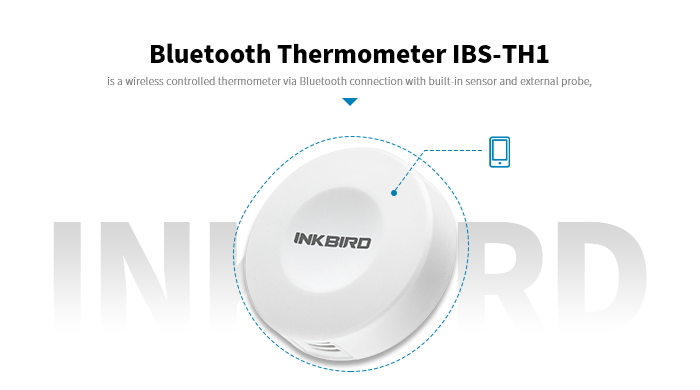 Wireless control: INKBIRD IBS-TH1 can be controlled by Bluetooth connection via its free APP and we can monitor, set and/or adjust its temperature and humidity on our mobile phones at any time, and we can check its history and current data remotely, no time to be wasted for making frequent checking, more efficient and convenient. Its Bluetooth connection range is up to 150ft/50M. Notice: the GPS location service of our mobile phone needs to be turned on before we pair INKBIRD IBS-TH1 with our mobile phone.
Built-in sensor and external probe: INKBIRD IBS-TH1 has one built-in sensor and an external probe. Its inside sensor can only monitor spatial range temperatures and humidity such as indoor and outdoor temperature and humidity, while its external probe can monitor liquid temperature. Versatile and more efficient.
Data saved up to 20 days: INKBIRD IBS-TH1 supports saving data and its saving period is up to 20 days. No worry of data loosing.
Adjustable intervals: the intervals of INKBIRD IBS-TH1 are adjustable based on our practical needs and/or our habits. If the sampling interval is 1min, the max date storage is 30000 point. Different sampling interval (10s, 30s, 1min, 2min, 5min, 10min, 30min) can be setting. The saving data time will be different if you choose different sampling interval.
Magnetic design: INKBIRD IBS-TH1 adopts magnetic design on its back for more user friendly and we can place it to any metal surface based on our practical needs, which is more efficiency and more convenient for use.
Alarms: INKBIRD IBS-TH1 supports alarms for temperature and humidity, which do us more help and convenience under our practical use contexts.
No reading confusion: INKBIRD IBS-TH1 supports both Celsius and Fahrenheit reading methods, we can switch them easily based on our reading habits, no more reading confusion anymore.
Technical Support Materials:
Please click to download the technical support materials such as user manuals and product APPs Click Here
Review Video:
Dimensions: 56mmx17mm
Weight: 20g
Battery: 1 Lithium ion battery CR2477
Battery Life: 1 Year. And the battery can be changed
Wireless Range: 50 meters
Temperature Range: -40~140°F (Inner sensor) -40~212°F (External probe)
Temperature Accuracy:
Typical: 0.3°C / ±0.5°F
Max: ±0.5°C / ±0.9°F (Inner sensor) ±1°C (External probe)
Humidity Range: 0~99%RH
Humidity Accuracy(25°C/ 77°F, 20%~80%RH):
Typical: ±3%RH
Max: ±4.5%RH
Humidity Accuracy(25°C/ 77°F, 0%~100%RH):
Typical: ±4.5%RH
Max: ±7.5%RH
Record capacity: 30000 ponits(MAX)
Record interval: 10s、30s、1min、2min、5min、10min、30min adjustable
Magnetic Back: Yes
Warranty: 1 Year