Wi-Fi Temperature Controller ITC-306T-WIFI
INKBIRD ITC-306T-WIFI is a temperature controller for heating only, supports 2.4Ghz Wi-Fi connections and features a heating function with day-and-night two cyclic timers in 24 hours. We can use it in planting, germination, terrariums, incubation.
*The final price is subject to Amazon.
Product Video
Main Features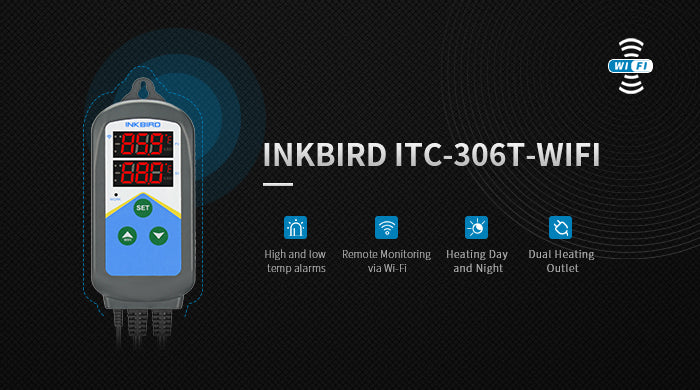 Heating Day and Night: INKBIRD ITC-306T-WIFI helps us control and maintain the temperatures at our desired range. We can independently preset two different target temperatures for day and night in 24 hours, so the heating devices will automatically turn on/off at different temperatures.
Remote Monitoring via Wi-Fi: ITC-306T-WIFI supports 2.4Ghz Wi-Fi connections, enabling us to remotely monitor and optimize heating via our phone, no matter where we are. Settings, alarms, temperature records, we can find everything via the app.
High-and-Low Temp Alarm: Based on our settings, ITC-306T-WIFI will alert us when the detected temperature is higher/lower than the preset range, reminding us to take protective actions to save our pets.
Dual Heating Outlet: With two sockets for heating devices only, ITC-306T-WIFI is perfect for controlling the temperature in reptile terrariums, home planting, germination, and incubation.
Dual-Screen Display: Two screens are equipped on each ITC-306T-WIFI, providing extreme convenience to viewing data. We can simultaneously check the detected temperature and the target temperature at one glance.
Functional and Reliable: ITC-306T-WIFI comes with a premium stainless steel probe, with high accuracy and high efficiency, for temperature detections. We can always count on it and provide an optimal living environment for our pets.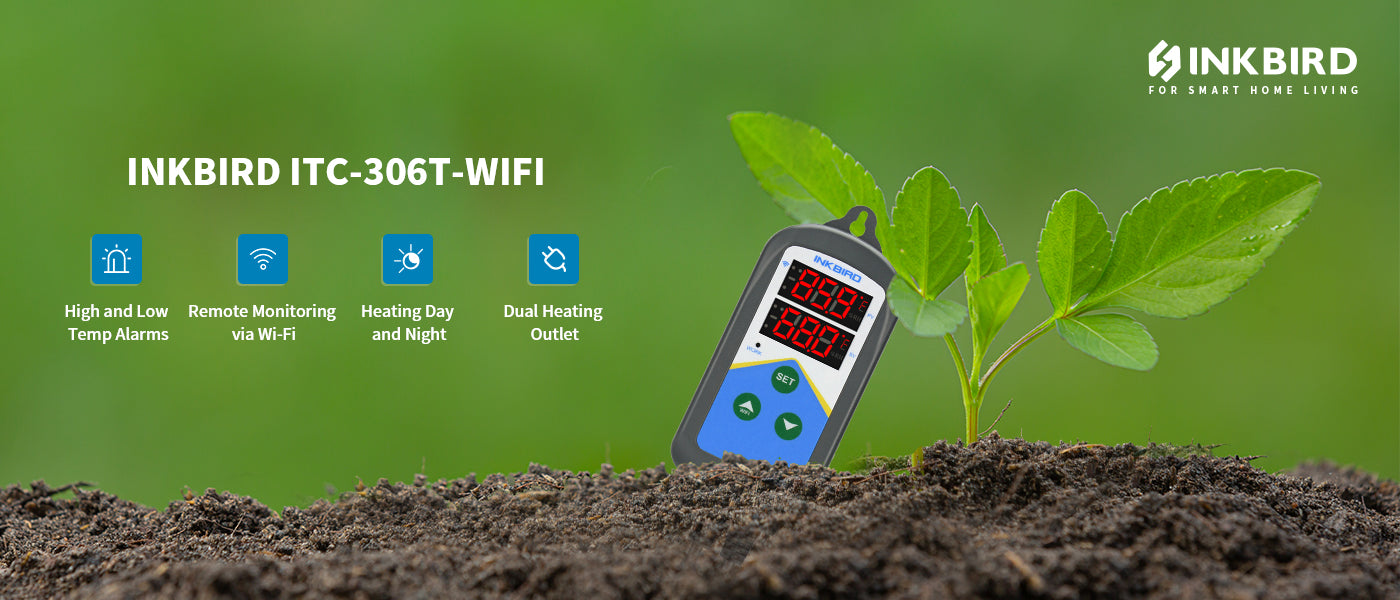 Technical Support Materials:
Please click to download the technical support materials such as user manuals and product APPs Click Here
Review Video:
Power: 100~240Vac 50/60Hz 10A MAX
Type of temperature probe: R25℃=10KΩ±1% R0℃=26.74~27.83KΩ B25/85℃ =3435K±1%
Temperature control range: -50.0℃~99.0℃/-58.0℉~210℉
Temperature measurement range: -50.0℃~120℃/-58.0℉~248℉
Temperature display accuracy: 0.1℃/℉(<100℃/℉), 1℃/℉(>=100℃/℉)
Range of Temperature (T) Celsius Error:
-50℃≤T<10℃ ±2℃
10℃≤T≤100℃ ±1℃
100℃<T≤120℃ ±2℃
Range of Temperature (T) Fahrenheit Error:
-58℉≤T<50℉ ±3℉
50℉≤T≤212℉ ±2℉
176℉<T≤248℉ ±3℉
Display unit: Celsius °C or Fahrenheit ℉
Ambient temperature: -20°C~40°C/-4.0℉~104℉
Storage environment:
Temperature: 0°C~60°C/32℉~140℉
Humidity: 20~80%RH (unfrozen or condensation state)