Wi-Fi&Bluetooth Grill Thermometer IBBQ-4BW
INKBIRD IBBQ-4BW is a wireless control meat thermometer by WiFi and Bluetooth connections, temperature alarm, temperature calibration, temperature records and etc., which has been earning high praise among BBQ and grilling professionals, fans and amateurs.
*The final price is subject to Amazon.
Product video
Main Fechures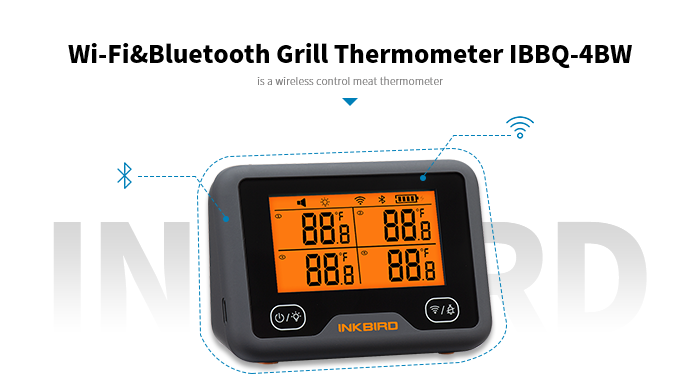 Wifi control: INKBIRD IBBQ-4BW can be controlled by WiFi or Bluetooth connection via its free APP and we can monitor, set and/or adjust its temperatures on our mobile phones at any time, no time to be wasted for making frequent checking, more efficient and convenient. (WiFi supported: ONLY SUPPORTS 2.4GHz Wi-Fi (Support IEEE 802.11b/g/n)
Alarms for safer: INKBIRD IBBQ-4BW supports alarms for the set high and low temperatures, once the detected temperature is reaching the set high/low temperature, its alarm will be triggered and notification will be sent to our mobile phone to alarm us, which is much safer and more efficient for application contexts.
Temperature records: INKBIRD IBBQ-4BW offers temperature records and we can check the records by viewing its temperature graph, no worry of data lose any more.
Temperature calibration: INKBIRD IBBQ-4BW supports temperature calibration for more accurate measurement and controlling based on our practical application contexts and will do more help for tasty food. Its calibration range is -7℃~+7℃/-12.6℉~+12.6℉. Its probe short time measurement ranges is -30℃~+300℃/-22℉~+572℉, while the continuous monitoring range is -20℃~+250℃/-4℉~+482℉.
Magnetic design: INKBIRD IBBQ-4BW adopts magnetic design on its back for more user friendly and we can place it to any metal surface based on our practical needs. Efficiency improved and more help for BBQ and/or grill.
Timer design: INKBIRD IBBQ-4BW has its own built-in timer to help us set and monitor the cooking situation, which will help decrease our cooking anxiety.
Backlight design: the back light design of INKBIRD IBBQ-4BW is more user friendly for data reading, which will help us do data reading clearly even against the daylight or at nights.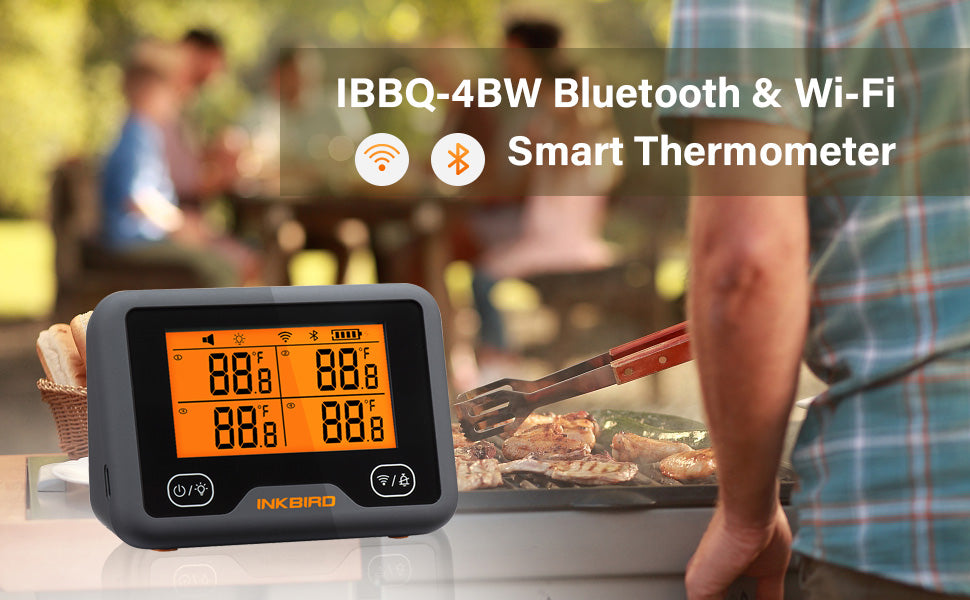 Technical Support Materials:
Please click to download the technical support materials such as user manuals and product APPs Click Here
Review Video:
Dimension: 108×44×80mm/4.25in*1.73in*3.15in
Net Weight: 183g/6.45oz
Screen Size: 70×40mm/2.76in*1.57in
Screen Type: Black-and-white LCD
Backlight Color: Orange
Magnetic Suction Grade: N30
Battery Type: Li-Ion Polymer Battery
Battery Capacity: 2500mah/9.25Wh
Bluetooth: Bluetooth BLE4.2
Wi-Fi: 2.4GHz IEEE 802.11b/g/n (20MHz)
System Requirements: Android 4.4 or later, iOS 11 or later
Short Time Measurement Temperature Range: -30℃~+300℃/-22℉~+572℉
Continuous Monitoring Temperature Range: -20℃~+250℃/-4℉~+482℉
Probe Temperature resolution: 0.1℉
Operating Temperature: 0℃~55℃/32℉~131℉
Temperature Unit: ℃/℉
Temperature Calibration Range: -7℃~+7℃/-12.6℉~+12.6℉
USB Type-C Input Voltage: DC 5V
USB Type-C Input Current: 1A Standard
Respond Time: 0.1sec (Minimum).
Temperature Refresh Rate: 4Hz
Number of Probe Channels: 4
Probe Connector: Jack 2.5mm mono plug 11mm