Product video
Main Features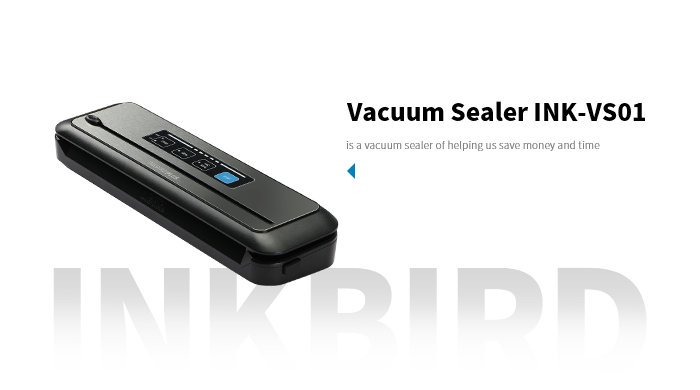 5 times longer preservation: INKBIRD INK-VS01 removes air from bags and seals them to keep food fresh and extends the shelf life of them. Its vacuum preservation time is 5 times than the ordinary preservation.
2 sealing modes: INKBIRD INK-VS01 supports dry sealing mode and moist sealing mode for different kinds of food, which is better and more efficient for food preservation.
One button to stop: we can press its stop button to stop vacuuming at any time and this will make it easier to control the vacuuming time according to the food type.
Built-in cutter: INKBIRD INK-VS01 can customize our desired bags with its built-in cutter easily. It fits up to 12'' width sealer bags and rolls.
Vacuum level of -80kPa: INKBIRD INK-VS01 has its vacuum level of -80kPa, which makes it quickly vacuum food and keep them fresh for a long time. Good helper for us to save money and time.
Ideal partner for Sous Vide cooking: thanks to its outstanding vacuum sealing for food preservation, INKBIRD INK-VS01 is an ideal partner for Sous Vide cooking and it can help us cook our food evenly.

Technical Support Materials:
Please click to download the technical support materials such as user manuals and product APPs Click Here
Review Video:
Size : 382*104*62mm/15.04in*4.09in*2.44in
Net Weight : 1.05kg/37.04oz
Gross Weight : 1.33kg/46.91oz
Rated Frequency : 50Hz-60Hz
Rated Voltage : (US version) AC 100V-120V; ( EU, UK, AU version) AC 220~240V
Rated Power : 110W
Sealing Time : 8-12 Seconds
Vac/Seal Time : 10-20 Seconds
Vacuum Level : -80kPa
Waterproof : Not waterproof
Warranty : 1 year