Temperature Controller ITC-308-WIFI
INKBIRD ITC-308-WIFI is wireless temperature controller via WIFI connection with temperature calibration, independent setting for refrigeration and heating, over temperature protection and automatic temperature control system for more accurate temperature control, which can be widely used for most applications such as #homebrew, #aquarium, #petbreeding, #incubation, #terrestrialheating, #fermentation and etc.
*The final price is subject to Amazon.
Product video
Main Features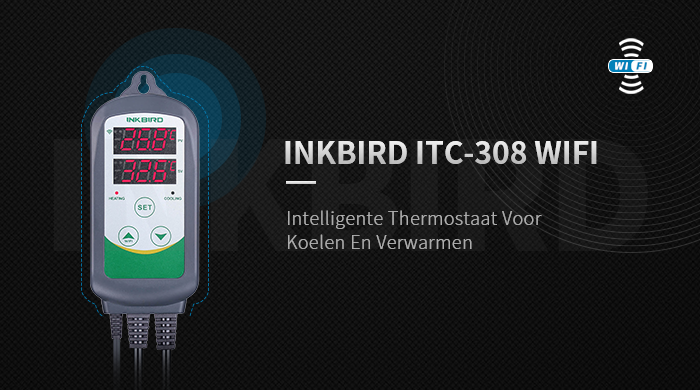 WIFI control: INKBIRD ITC-308-WIFI can be connected to our mobile phones via its free APP and we can monitor, set and/or adjust its temperature on our mobile phones at any time, no time to be wasted for making frequent checking, more efficient and convenient. (WIFI supported: ONLY SUPPORTS 2.4GHz Wi-Fi (Support IEEE 802.11b/g/n)
Temperature calibration: INKBIRD ITC-308-WIFI supports temperature calibration for more precise temperature setting, monitoring and controlling, offering more security for monitored objects;
Compressor delay protection: its compressor delay can help us protect our refrigeration control to improve the device lifetime;
Temperature alarms: INKBIRD ITC-308-WIFI supports alarms for continuous heating, high-and-low temperatures and abnormal probe performance, safer for monitored objects and better device lifetime.
Dual relay output: controls refrigeration and heating equipment at the same time for higher working efficiency;
Temperatures displaying and setting simultaneously: with dual display screens, we can read one temperature and set the other one at the same time, more efficient and convenient;
Heating/Cooling separate settings: its Heating and Cooling settings can be made separately to avoid man-made damage caused by violent changes to improve its lifetime;

Technical Support Materials:
Please click to download the technical support materials such as user manuals and product APPs Click Here
Review Video:
Temperature measurement range : -40℃~100℃/-40℉~212℉
Temperature display accuracy : 0.1℃ /℉(<100℃/℉), 1℃/℉(> =100℃/℉)
Power :
Voltage: 100~230Vac,50/60Hz
Current: 10A
Max Wattage: 1200W(110Vac), 2200W(220Vac)
Type of temperature probe: R25℃=100KΩ±1%, R0℃=26.74~27.83KΩ,B25/85℃=3435K±1%
Ambient temperature: -20℃~60℃/-4℉~140℉
Storage environment:
temperature : 0℃~60℃/32℉~140℉
humidity : 20~80%RH(Unfrozen or condensation )
Warranty controller : 2 years warranty
Warranty temperature probe : 1 year warranty