Temperature Controller ITC-1000
INKBIRD ITC-1000 is a dual-stage digital temperature controller supporting over-temperature alarm and sensor-error alarm,featuring temperature calibration and compressor delay protection, ideal for home brewing, fermentation, incubation and indoor planting.
*The final price is subject to Amazon.
Product Video
Main Features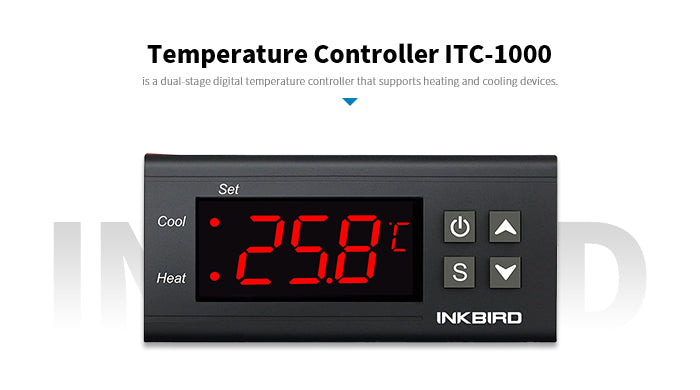 Automatic Temperature Controller: INKBIRD ITC-1000 is a dual-stage temperature controller that can automatically start/stop heating and cooling, maintaining the temperature at our desired value smartly, accurately and reliably.
A Wide Range of Uses: ITC-1000 helps us constantly provide an optimal temperature for things that require a specific growth environment. With its help, we can control the temperature easily in reptile fostering, home brewing, alcohol fermentation, incubation, indoor planting and etc.
Over-Temperature Alarm: ITC-1000 will get alarmed when the detected temperature exceeds its probe's measurement range from -58℉ to 210℉ (-50℃ to 99℃), reminding us to take protective actions to avoid unexpected loss. We will get alerted as well if there is a sensor error.
Compressor Delay Protection: ITC-1000 features an output delay protection of refrigeration control to reduce power loss and protect our domestic appliances, such as air conditioners, freezers and refrigerators.
DIY Automatic Control System: ITC-1000 is designed for DIY temperature controlling systems, easy to install, easy to operate. By connecting the wires of our cooling device and heating device with ITC-1000, we can set up an automatically heating-and-cooling system at home.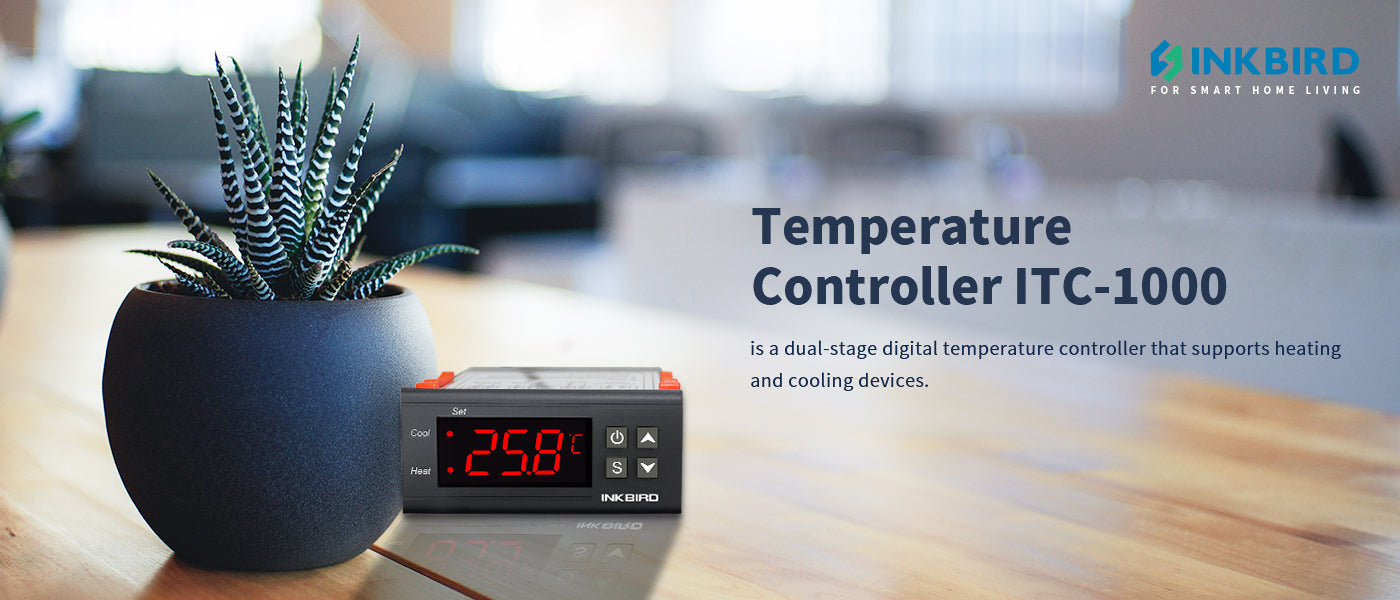 Technical Support Materials:
Please click to download the technical support materials such as user manuals and product APPs Click Here
Review Video:
Front Panel Size : 75(L)*34.5(W)mm
Mounting Size : 71(L)*29(W)mm
Product Size : 75(L)*34.5(W)*85(D)mm
Sensor Length : 2m (include the probe)
Output : 2 Relays
Temperature Measuring Range : -50~210°F / -50~99°C
Resolution : 0.1°F / 0.1°C
Accuracy : ±2°F (-58~160°F) / ±1°C (-50~70°C)
Power Supply : 220VAC/110VAC/12VDC 50Hz/60Hz (Depends on the model you buy)
Power Consumption : <3W
Sensor : NTC Sensor
Relay Contact Capacity : Cooling (10A) / Heating (10A)
Ambient Temperature : 0°C-60°C
Relative Humidity : 20~85% (No Condensate)