Wi-Fi Sous Vide Cooker ISV-200W
INKBIRD ISV-200W is a wifi Sous vide (pronounced as "sue-veed") cooker helping us cook as a pro with wireless control, uniform and fast heat circulation, temperature alarm, silent design and ect., which is widely used for the perfect level of doneness for chicken, fish, beef, lamb, pork, and more.
*The final price is subject to Amazon.
Product video
Main Features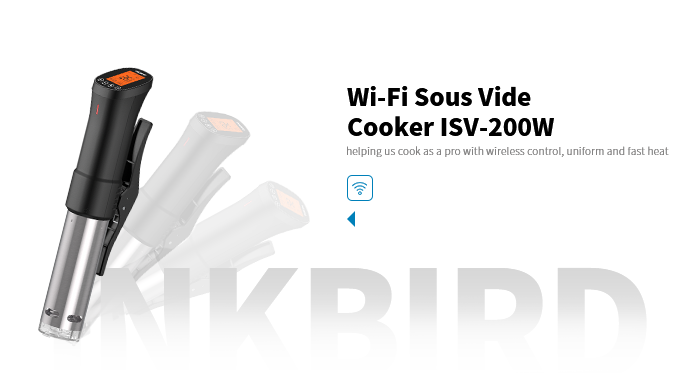 Wifi control: INKBIRD ISV-200W can be controlled by WiFi connection via its free APP and we can be informed with the real-time cooking status, no time to be wasted for making frequent checking, more efficient and convenient. Besides, it can let us share our device with our families and friends via its APP. (WiFi supported: ONLY SUPPORTS 2.4GHz Wi-Fi (Support IEEE 802.11b/g/n)
Alarms for safer: INKBIRD ISV-200W will stop working and alarm us when the water level is lower than its minimum value, besides, it will also alarm us when its practical temperature reaches our set value, which is much safer and more efficient for application contexts.
Preset value saved automatically: INKBIRD ISV-200W can save our preset values automatically when its power is off and we do not need worry data loose and have more reference for subsequent cooking.
Choose recipe easier: INKBIRD ISV-200W supports choosing recipe from its APP on our mobile phone or on its LCD screen directly, easier to cook as a pro with more efficiency.
Easy-to-use: we just need to put INKBIRD ISV-200W into any pot with water and drop your desired food in a sealed bag or glass jar, then set the temperature and timer, cooking as a pro is not a hard thing.
Silent design: INKBIRD ISV-200W adopts silent design, which is specially designed for all cooking contexts. No noisy disturbance, more focus and enjoy for cooking.

Technical Support Materials:
Please click to download the technical support materials such as user manuals and product APPs Click Here
Review Video:
Input voltage : (US version) AC 120v 60Hz, (EU, UK, AU version) AC 220~240v 50Hz
Heating Power : 1000W
Length of the Cable : 47.2"/1.2m
Readable LCD : (W)36mm*(L)42mm, 128*128 Dot Matrix LCD
Temperature Control Range : 32℉~194℉(0℃~90℃)
Temperature Accuracy : 1℉/0.1℃
Display Accuracy : 1℉/0.1℃
Time Setting Range : Max 99 hours and 59 minutes
Time Setting Minimum Interval : 1 minute
Directional Pump : 360 Degree heating
Reminder : There will be hint tone when the water temperature reaches the set temperature or the countdown ends.
Water Shortage Protection : If the water level is lower than the minimum scale line, the device will automatically stop working and alarm.