Humidity Controller IHC-200
INKBIRD IHC-200 is an out-of-box humidity controller, which can control those humidifiers, dehumidifiers and/or fans which voltages range from 100 to 240. It is widely used for mushroom, mini greenhouse, ventilator fan, crawl space, turtle enclosure, curing chamber, snake cage, tobacco cage and etc.
*The final price is subject to Amazon.
Product video
Main Features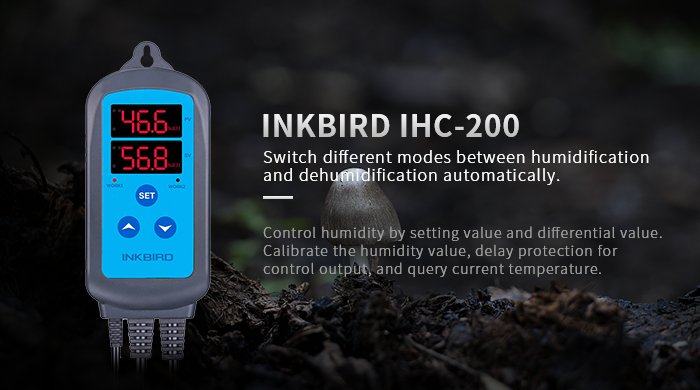 Switch modes automatically: INKBIRD IHC-200 supports humidification and dehumidification modes and switches between the two modes automatically, easy and convenient for humidity controlling and monitoring.
Alarms for safer: the alarm of INKBIRD IHC-200 will be triggered once the detected humidity exceeds the set values or its limit value or once the sensor occurs faulty performance. It will be much safer and more efficient for application contexts.
Range and accuracy: its humidity measuring range is 5~99.99%RH with its control range of 5~99%RH and its accuracy of ±3%RH.
Humidity calibration: INKBIRD IHC-200 supports humidity calibration for more accurate measurement and controlling based on our practical application contexts.
Delay protection: it is equipped with delay protection for its control output which can offer more protection for the device and the monitored objects as well.
Humidity query: INKBIRD IHC-200 offers current humidity query and we can have real time humidity monitoring and controlling and do be better for our monitored objects.

Technical Support Materials:
Please click to download the technical support materials such as user manuals and product APPs Click Here
Review Video:
Power Input : 100 ~240VAC, 50Hz/60Hz
Power Output : Max. 10A, 100V ~240V AC
Humidity Measuring Range : 5%-99.99%RH
Humidity Control Range : 5%-99%RH
Resolution : 1%RH
Accuracy : ±3%RH
Sensor model : HTG3535CH
Sensor stability : <0.5%RH/yr
Sensor Length : 2m / 6.56ft
Relay Contact Capacity :
Humidification :10A, 100-240VAC
Dehumidification :10A, 100-240VAC
Input Power Cable Length : 1.5m (5ft)
Output Power Cable Length : 30cm (1ft)
Ambient Temperature : -30~ 75 °C / -22~ 167 °F
Storage Temperature : -30~ 75 °C / -22~ 167 °F
Storage Humidity : 20~85% (No Condensate)
Warranty : 1 Year
Humidity Accuracy : 5%-99.99%RH
Size :
Product : 140x68x33mm(5.5x2.7x1.3inch)
Size of Socket :
US Socket : 85x42x24mm(3.3x1.7x1.0inch)
EU Socket : 135x54x40mm(5.3x2.1x1.6inch)
UK Socket : 140x51x27mm(5.5x2.0x1.0inch)
AU Socket : 112x46x27mm(4.4x1.8x1.0inch)