Temperature Controller ITC-308
INKBIRD ITC-308 is out-of-the-box, safe and reliable with temperature calibration, independent setting for refrigeration and heating, over temperature protection and automatic temperature control system for more accurate temperature control. With output power of 1,100W(110V) /2,000W(220V), it can be used for most applications such as #homebrew, #aquarium, #petbreeding, #incubation, #seedling, #terrestrialheating, #fermentation, #germination and etc.
*The final price is subject to Amazon.
Product video
Main Features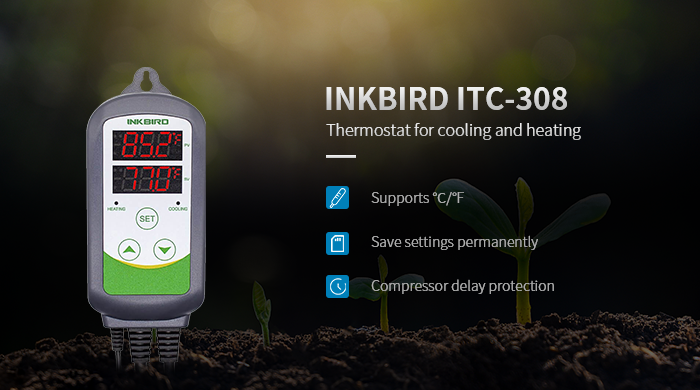 Temperature calibration: INKBIRD ITC-308 supports temperature calibration for more precise temperature setting, monitoring and controlling, offering more security for monitored objects;
Compressor delay protection: its compressor delay can help us protect our refrigeration control to improve the device lifetime;
Temperature alarms: INKBIRD ITC-308 supports alarms for continuous heating, high-and-low temperatures and abnormal probe performance, safer for monitored objects and better device lifetime.
Dual relay output: INKBIRD ITC-308 controls refrigeration and heating equipment at the same time for higher working efficiency;
Temperatures displaying and setting simultaneously: with dual display screens, we can read one temperature and set the other one at the same time, more efficient and convenient;
Heating/Cooling separate settings: its Heating and Cooling settings can be made separately to avoid man-made damage caused by violent changes to improve its lifetime;
Out-of-the-box: INKBIRD ITC-308 is designed for out-of-the-box and plug-and-play, easy to use, easy to move and easy to store.

Technical Support Materials:
Please click to download the technical support materials such as user manuals and product APPs Click Here
Review Video:
Temperature Control Mode : On/Off Control, Heating and Cooling
Temperature Control Range : -50~120 °C / -58~248 ° F
Temperature Display Resolution : 0.1°C/°F (<100), 1°C/1°F (≥100)
Temperature Accuracy : ±1°C/ ±2°F
Ambient Temperature : -30~ 75 °C / -22~ 167 °F
Input Power : 100 ~240VAC, 50Hz/60Hz
Temperature Control Output : Max. 10A, 100V ~240V AC
Input Power Cable Length : 1.5m (5ft)
Output Power Cable Length : 30cm (1ft)
Buzzer Alarm : High and Low Temperature Alarm, Sensor Fault Alarm, Over-temperature Alarm
Sensor Type : NTC sensor (Including)
Sensor Length : 2m / 6.56ft
Relay Capacity : Cooling/ Heating (10A, 100-240VAC)
Storage Temperature : -20~ 60 °C / -4~ 140 °F
Storage Humidity : 20~85% (No Condensate)
Dimension Body : 140x68x33mm (5.5x2.7x1.3inch)
Warranty : 1 Year