Product Video
Main Features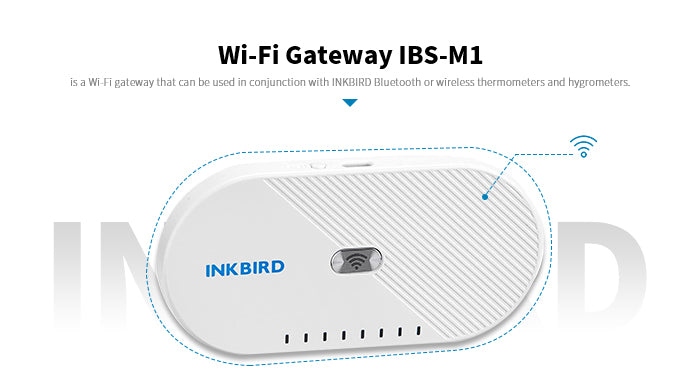 Create A Smart Home: INKBIRD IBS-M1 enables our thermometers and hygrometers to connect to the Internet and lets us remotely monitor temperature and humidity via a Wi-Fi network. It can connect a max of 50 devices at a time, helping us build a smart home.
Monitor Anytime, Anywhere: IBS-M1 can connect INKBIRD temperature and humidity sensors via Bluetooth or Wi-Fi and we can monitor all of them by connecting IBS-M1 to our phones. As long as our phones access the Internet, we can monitor the temperatures and humidity from every corner of our home, no matter where we are.
Real-Time Notification: Notifications and alarms about connections and temperatures will be timely pushed through the phone app, reminding us to take protective actions and optimize the living environment for our family and pets.
Longer Distance, Longer Control: The maximum connection distance between IBS-M1 and a Bluetooth device is 164 feet (50 meters), while the maximum connection distance between IBS-M1 and the wireless device is 300 feet (90 meters).
12-month Data Storage: All data from thermometers and hygrometers can be stored in the cloud for 12 months. We can check real-time temperatures and humidity via the phone app and export CSV files to our mailbox to investigate all changes in temperature and humidity.
More Convenient APP: Through the phone app, we can modify the name of each device, get instant temperature and humidity, and switch Celsius and Fahrenheit temperature units.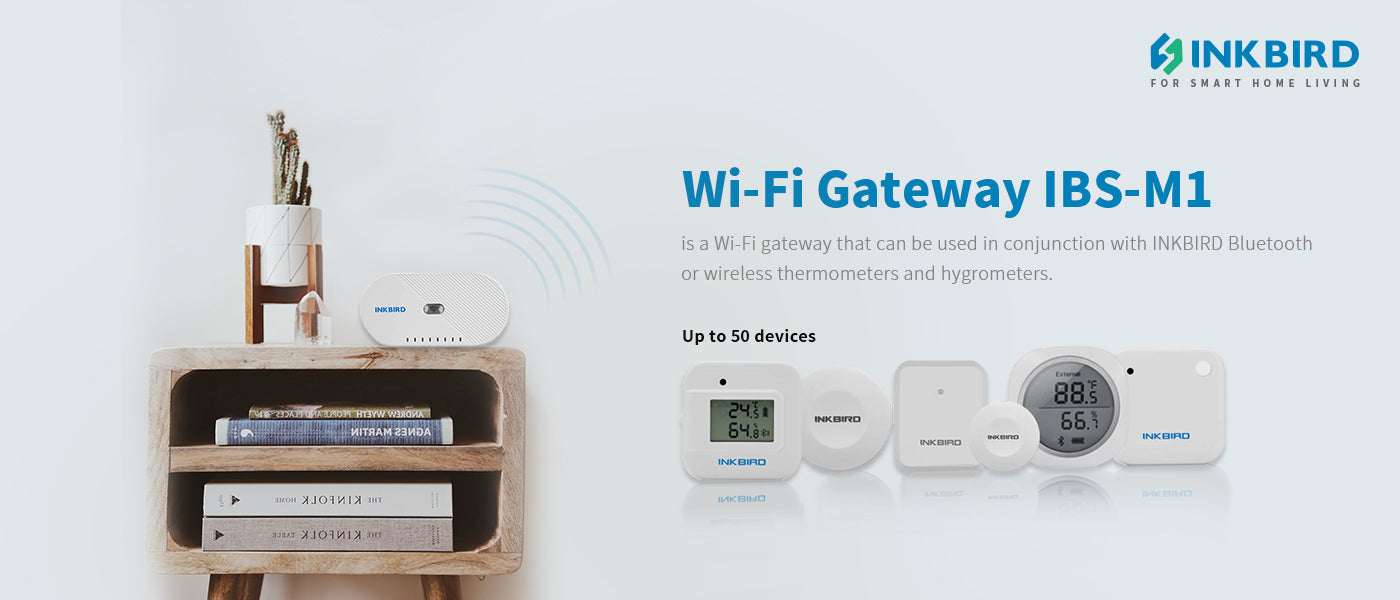 Technical Support Materials:
Please click to download the technical support materials such as user manuals and product APPs Click Here
Review Video:
Input Voltage: DC 5V, 1000mAh
Maximum Bluetooth Connection Distance: 164ft without interferences
Maximum Wireless Connection Distance: 300ft without interferences
Wireless Transmission Frequency: 433Mhz
Number of Devices Supported: up to 50 at a time
Make sure that the IBS-M1 Wi-Fi gateway is plugged in before turning the relevant devices on.
Part of Bluetooth Devices: IBS-TH1, IBS-TH1 Mini, IBS-TH1 Plus, IBS-TH2, IBS-TH2 Plus, IBS-P01B
Part of Wireless Connection Equipment Models: ITH-20R-O, IBS-P01R-O