Waterproof Meat Thermometer IHT-1S
INKBIRD IHT-1S is an instant and waterproof read thermometer with lock readout, temperature calibration, backlight LCD, rechargeable battery, magnetic back, hook design and etc., which is widely adopted by professional chefs, BBQ competitors, cooking show hosts, award-winning baristas.
*The final price is subject to Amazon.
Main Features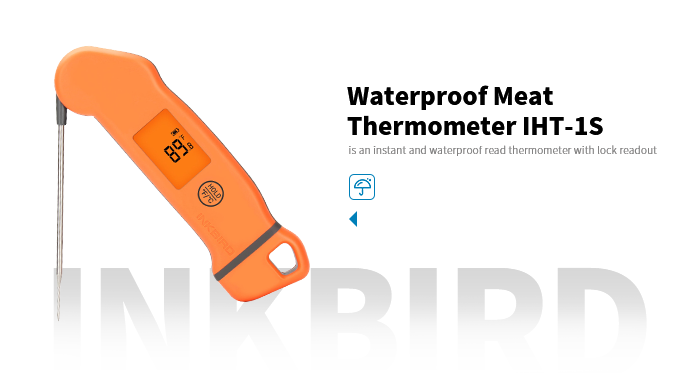 Instant read and waterproof: INKBIRD IHT-1S supports instant reading within 2-3 seconds and waterproof of IP67.
LCD Backlight design: the back light design of INKBIRD IHT-1S is more user friendly for data reading, which will help us do data reading clearly even against the daylight or at nights.
Rechargeable battery: INKBIRD IHT-1S adopts USB Rechargeable Battery for lasting at least 15 days once fully recharged. Don't need to spend extra money on replacing batteries any more. Less spending for longer battery life and longer using time.
Handheld design: its handheld design is much easier and more convenient for us to use under most of the application contexts, and it supports lock readouts when it is put out from the food. This is easy to use for more efficiency.
Temperature calibration: INKBIRD IHT-1S supports temperature calibration for more accurate measurement based on our practical application contexts and will do more help for tasty food. Its calibration range is -5.0℉〜5.0℉/-3.0℃~3.0℃.
180℃ rotation design: the probe of INKBIRD IHT-1S is designed with 180℃ rotation and we can use it to read food temperatures from any angle we want based on our practical use contexts.
No reading confusion: INKBIRD IHT-1S supports both Celsius and Fahrenheit reading methods, just hold the button for2~8 seconds and then release to switch between ℉ and ℃ reading.

Technical Support Materials:
Please click to download the technical support materials such as user manuals and product APPs Click Here
Review Video:
Measurement Range: -58.0℉~572℉/-50.0℃~300℃
Measurement Accuracy: ±0.5℃/±1.0℉
Resolution of Display: 0.1℃/℉ (<100℃ /212℉), 1.0℃/℉ (>=100℃/212℉)
Waterproof Level: IP67
ON/OFF: Auto
Battery: Rechargeable Lithium Battery
Calibration Range: -5.0℉~5.0℉/-3.0℃~3.0℃
Support Both ℉ & ℃