Smart Sprinkler Controller IIC-600-WIFI
INKBIRD IIC-600-WIFI is an upgraded version of the INKBIRD smart sprinkler controller with a Wi-Fi function, which allows us to control and monitor watering through a smartphone anytime, anywhere. With this easy-to-use sprinkler controller, we can effortlessly grow vivid plants and create a wonderful garden.
*The final price is subject to Amazon.
Main Features
6-Zone Control: INKBIRD IIC-600-WIFI helps us control watering in 6 zones and allows us to set independent watering schedules for each zone. With its four selectable watering cycles and six start times settable per day, IIC-600-WIFI helps us provide adequate water for the various plants we grow. It supports automatic mode and manual mode for watering.
Free App Control: IIC-600-WIFI is Wi-Fi capable that lets us control and monitor the watering process through a smartphone at any time, anywhere. Through the humanized INKBIRD app, we can view the ongoing watering process, watering history, and plans at a glance. Also, we can optimize the watering in time according to the local weather condition, temperature, and humidity on the interface.
Rain Skip & Seasonal Adjustment: We can connect a rain sensor to the IIC-600-WIFI, letting it automatically stop watering on rainy days, saving water and money. In addition, it has a seasonal adjustment function, which allows us to adjust the watering time with one operation, meeting the different growth needs of plants in different seasons.
Permanently Save Settings: Once set, lifetime store. IIC-600-WIFI has non-volatile memory, which can constantly save all setting parameters even after a long time of power-off. There is no need to repeat the settings, saving our time and effort in use.
Easy To Install and Use: It's extremely easy and fast to install the IIC-600-WIFI and set up an automation irrigation system for our garden, freeing us from our daily watering routines. With this smart sprinkler controller, our plants can grow vividly with adequate water every day.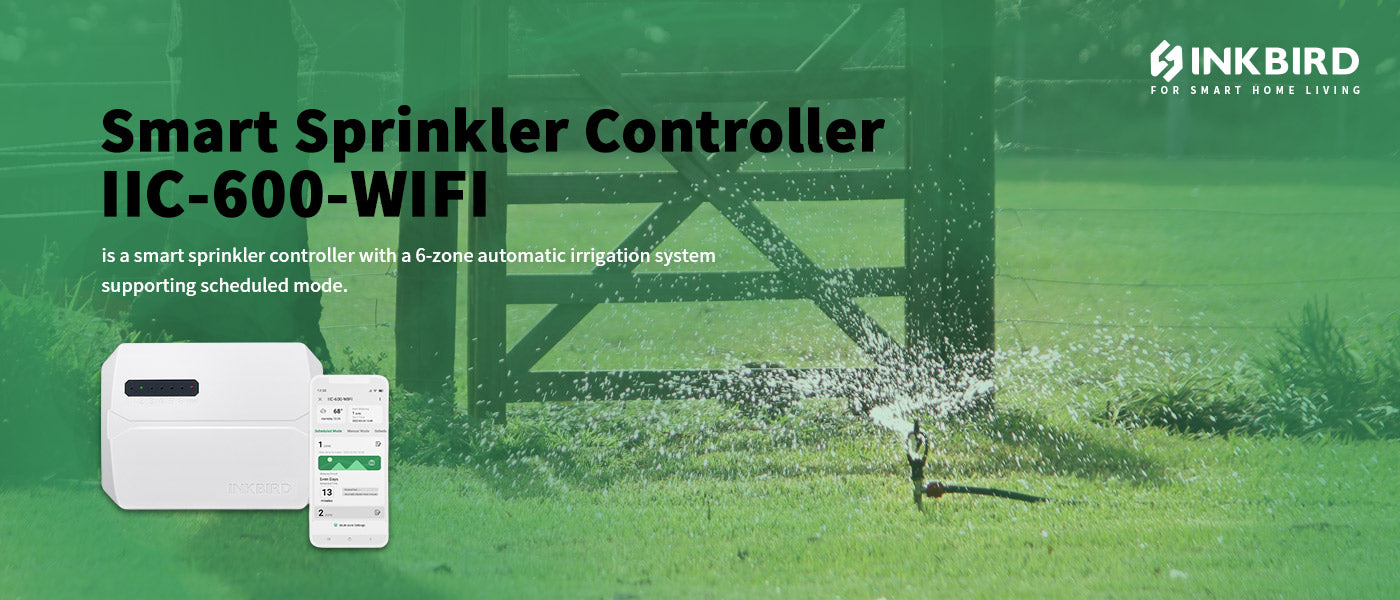 Technical Support Materials:
Please click to download the technical support materials such as user manuals and product APPs Click Here
Color: Gray+White
Material: ABS Shell
Power: 24VAC 1A
Seasonal Adjustment Range: -90%~100% (every 10% as a unit)
Operating Temperature: Room Temperature
Storage Temperature: 0℃~60℃/32℉~140℉
Storage Humidity: 20%~80% RH
Product Warranty: 2 Years