Main Features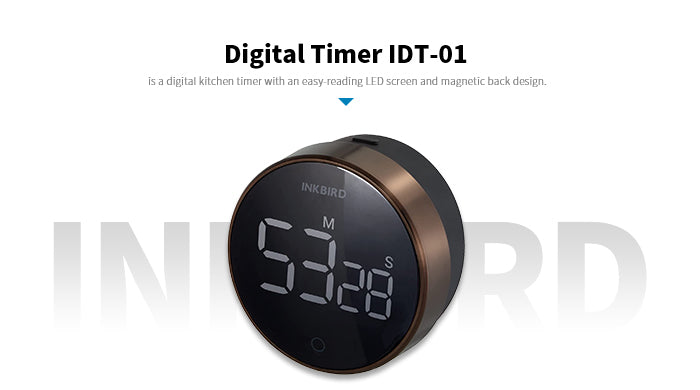 Two Timing Modes: INKBIRD ITD-01 supports countdown mode and positive timing mode, in which maximum timing can reach 99 minutes and 99 seconds. We can use it when cooking fast food and always enjoy our meals at the perfect time. It's also suitable for study, exercise, office, etc.
Easier to Use: Rotate the screen left and right to set minutes and seconds, even children and the elderly can operate smoothly. The flat button on the screen can start/stop/reset the timer, abandoning the traditional button design and ensuring the smoothness of the device.
Large & Easy-reading Display: ITD-01 is made of premium materials and certificated by CE, ROHS, and FCC. The backlit LED screen on its sloping body gives us a bright and clear reading, letting us check the timer easily and clearly at any time.
Three Volume Levels: The volume of ITD-01 is adjustable to suit people with different hearing requirements, and the silent mode is ideal for people who are sensitive to noise or don't want to hear the alarm based on the practial use.
Rechargeable Battery: ITD-01 is equipped with a 500mAH rechargeable battery, which can sustain more than 11 days in a full charge if we use it for 3 hours per day. ITD-01 will automatically deactivate the screen and enter the power-saving mode if there is no operation in 10 seconds.
Strong Magnetic Back: Elegant appearance, thoughtful designs. ITD-01 has non-slip pads on the bottom for stable use and a strong magnet embedded in the back that enables us to stick it to the refrigerator or other iron surfaces; easy to use, easy to store.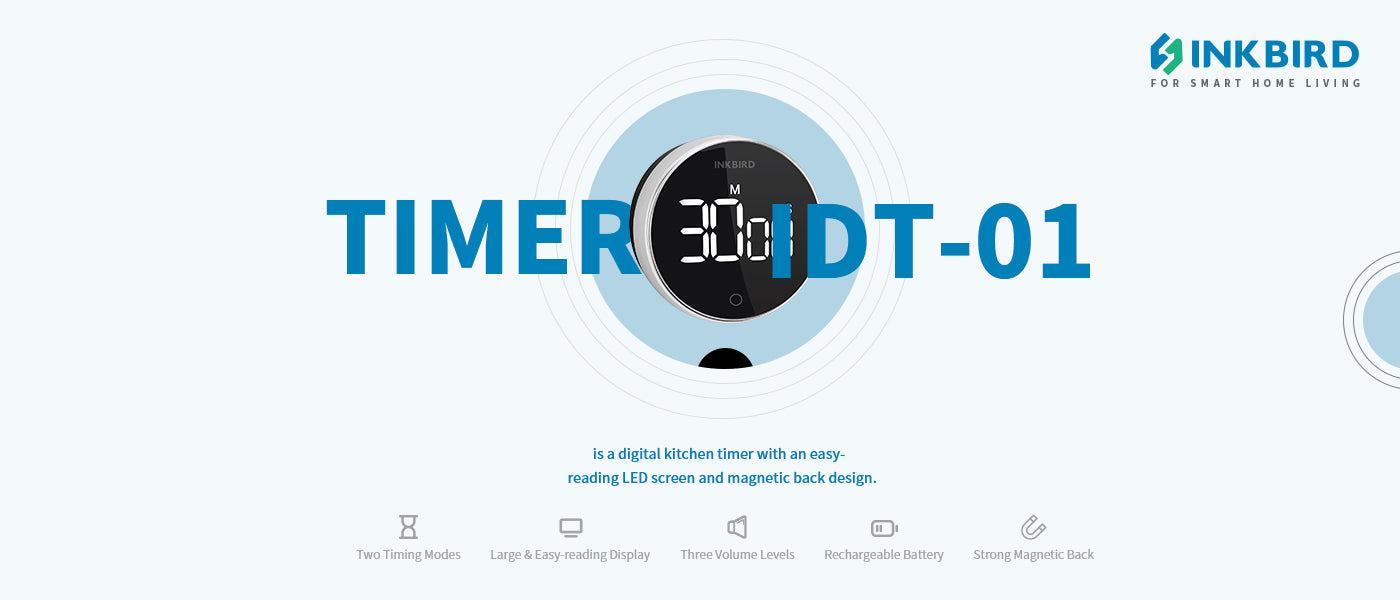 Technical Support Materials:
Please click to download the technical support materials such as user manuals and product APPs Click Here
Diameter: 79.95mm
Height:
Maximum: 43.4mm
Minimum:26.6mm
Net Weight: 101g
Screen Dimensions: 56mm*35mm
Screen Type: LED
Magnetic suction Grade: N30
Battery Type: Li-Ion Polymer Battery
Battery Capacity: 3.7V 500mAh
USB Type-C Input Voltage: DC 5V
USB Type-C Input Current: 500mA Standard
Working Temperature: 0℃~50℃
Volume Level: Mute/Low /High
Charging Time: 75 minutes
Stopwatch/ Countdown Timer: 0~99 minutes
Magnet Back: Yes