Product Video
Main Features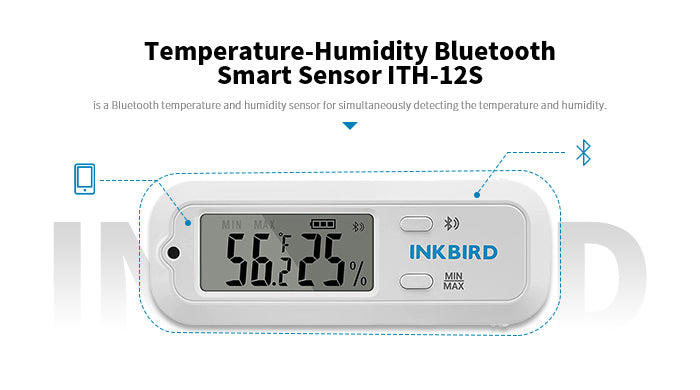 Small Size & Functional: INKBIRD ITH-12S is well-designed into a compact body and equipped with three functional buttons for effective operation. We will love it more because of the smooth and fine shell.
Accurate Readings: ITH-12S is trustworthy because of its high measurement accuracy. It can measure the temperature ranged from 0℃ to 60℃ (32℉~140℉) at an accuracy of ±0.3℃ (±0.50℉) and detect the humidity ranged from 0%RH to 99%RH at an accuracy of ±3%RH.
Bluetooth & APP Monitor: We can connect ITH-12S with our phone via Bluetooth and check temperature and humidity in a long distance of up to 98ft/30m. One phone can connect multiple sensors simultaneously and vice versa.
Data Storage & Export: ITH-12S can save historical data up to 1 year (selecting the time interval of 30 minutes). We can check all changes in temperature and humidity on our phone and export a CSV file for further investigation.
Multipurpose Smart Sensor: Regarding its small size, ITH-12S is an ideal sensor of temperature and humidity for humidors, wood instruments, herbal storage, incubators and those need to be precisely controlled on temperature and humidity.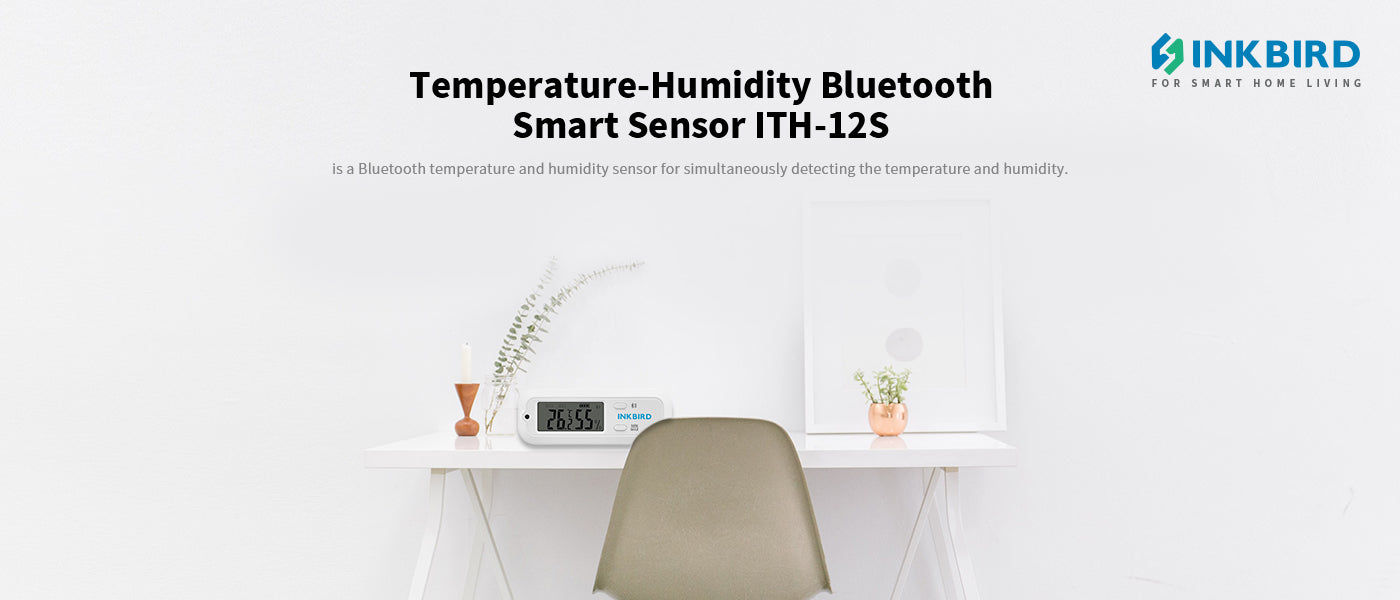 Technical Support Materials:
Please click to download the technical support materials such as user manuals and product APPs Click Here
Battery: 1* CR2032 Battery
Bluetooth Connection Range: 30 meters (98ft)
Temperature Measurement Range: 0℃~60℃/32℉~140℉
Typical: ±0.3℃ /+0.50℉
Max: ±0.5℃/±0.99℉
Humidity Range: 0%RH-99%RH
Humidity Accuracy (25℃/77℉, 20%~80%RH):
Typical: ±3%RH
Max: ±4.5%RH
RH Humidity Accuracy (25℃/77℉, 0%~100%RH):
Typical: ±4.5%RH
Max: ±7.5%RH