Bluetooth Food Thermometer IHT-2PB
INKBIRD IHT-2PB is a handy Bluetooth meat thermometer designed with two external probes with features such as auto-sleep, temperature alarms, countdown timers and temperature calibration, which is a good partner for grilling and daily cooking.
*The final price is subject to Amazon.
Product Video
Main Features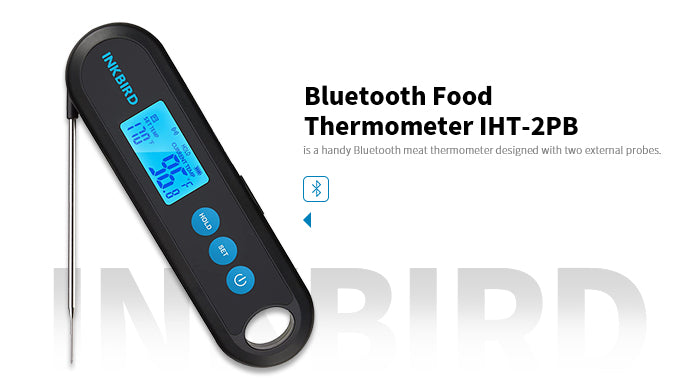 Remote Monitor via Bluetooth: INKBIRD IHT-2PB has a 3-probe design that supports up to 3 probes to measure at the same time and has Bluetooth functionality that enables us to control it on a smartphone and wirelessly monitor cooking within a range of 100 meters (328 feet).
Instant & Accurate Readout: 2-second instant readout with ±0.5℃ (±1.0℉) of high measurement accuracy, IHT-2PB is ideal for detecting temperatures ranging from -50℃ to 300℃ (-58℉ to 572℉). It's an optimal gadget for grilling and cooking, helping us always make good meals for our friends and family.
User-Friendly Phone App: The app preset 11 types of meat and 5 types of doneness for cooking options. We can also add more customized food types to the preset list. Through the app, we can effortlessly program IHT-2PB and track all historical temperatures. This INKBIRD app is compatible with smartphones running iOS 11/Android 5.0 or later versions.
Temperature Alarms & More: When the measured temperature reaches the preset value, IHT-2PB will alert us and send a notification message. We can set temperature alarms and timers for each probe. In addition, it supports ℃/℉ selection, temperature calibration, and auto-sleep function.
Easy-reading LCD with Backlight: IHT-2PB is equipped with a large LCD screen, enabling us to check the measured temperature and target temperature at a glance. The bright blue backlight of the screen enables us to see all values clearly, even in the dark.
Rechargeable & Magnetic Designs: IHT-2PB can be quickly charged within an hour, as it comes with a rechargeable battery which will help us save cost on battery replacement. And its magnetic back is designed to enable us to stick it to the oven or fridge. We can hang it anywhere with hooks when not in use.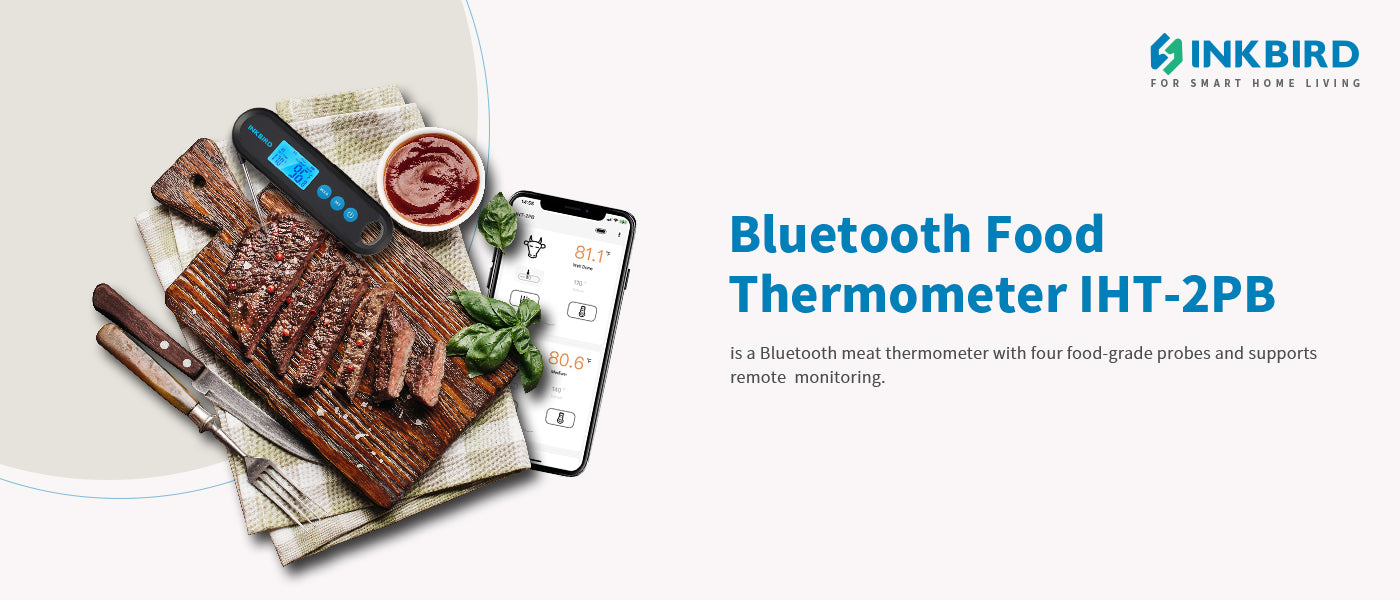 Technical Support Materials:
Please click to download the technical support materials such as user manuals and product APPs Click Here
Review Video:
Material: Food-grade Stainless Steel
Screen: LCD
Waterproof: IPX5
Battery Capacity: 250mAh
Charging Time: 1 hour
Temperature Range: -50℃~300℃/-58℉~572℉
Measurement Accuracy: ±0.5℃/±1.0℉
Readout Time: 2 seconds
Temperature Calibration Range: -4.9℃~4.9℃/-9.9℉~9.9℉
Warranty: 2 Years