Wi-Fi Reptile Thermostat IPT-2CH
INKBIRD IPT-2CH is a plug-and-play, easy-to-use heating mat controller supporting phone monitoring via 2.4Ghz Wi-Fi connections, high-and-low temperature alarms, temperature calibration and probe abnormal alarm. It's an ideal temperature controller for reptiles and germination.
*The final price is subject to Amazon.
Product Video
Main Features
Remote Control via Wi-Fi: INKBIRD IPT-2CH is equipped with a 2.4Ghz Wi-Fi module, enabling us to control and monitor the heating processes by our phone via Wi-Fi connections wherever we are. We can also check all temperature records and export the data from the app.
Dual Heating, Dual Control: IPT-2CH is designed with two heating outlets that work independently, so we can concurrently control the temperatures of two terrariums and constantly provide even warmth to our pets.
High-and-Low Temp Alarm: Featuring alarm functions, IPT-2CH can alert us when the detected temperature is beyond our desired range, enabling us to take preventative actions to protect our pets.IPT-2CH will get alarmed if its probe is installed incorrectly, which is safer and more reliable.
Not Only for Reptiles: IPC-2CH can be used with heating mats, heating lamps, or other heaters, affording a constant, warm environment for reptiles, seedling germination, plant rooting, home brewing,fermentation and etc.
Optimal Temperature Range: IPT-2CH supports a temperature control range from 0℃ to 45℃ (32.0℉~113℉), which is the universal temperature range that reptiles require. With two premium detecting probes, we can always get accurate temperature values and ensure an optimal living environment for our pets.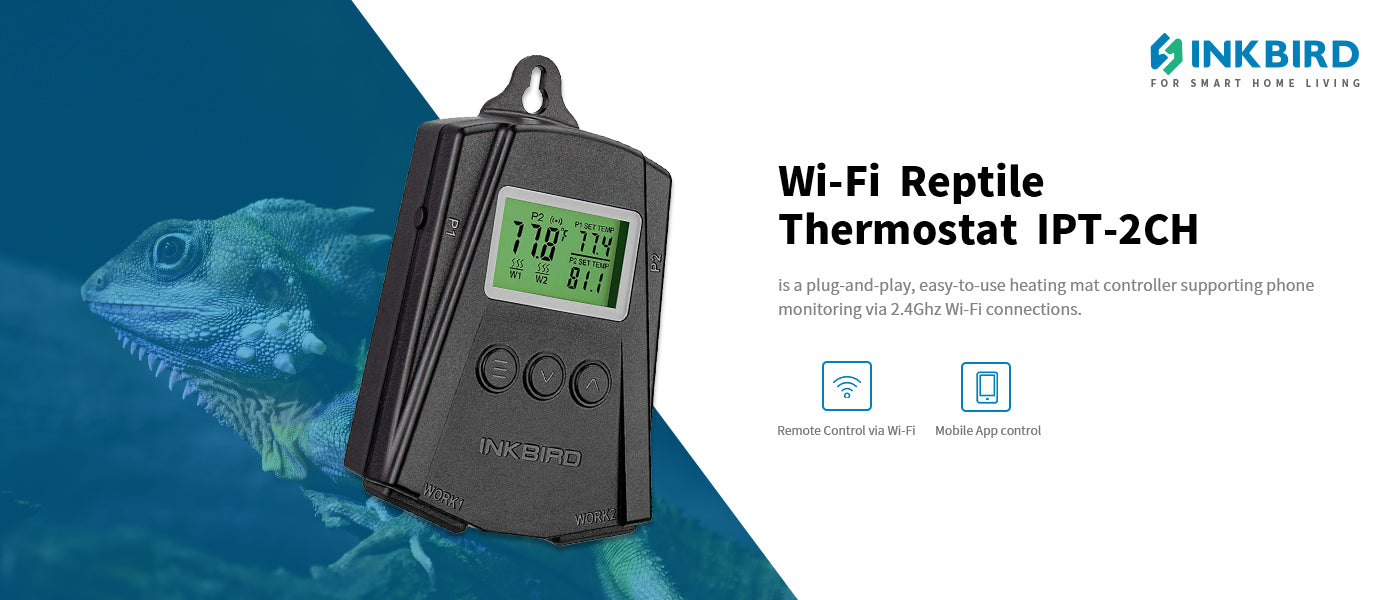 Technical Support Materials:
Please click to download the technical support materials such as user manuals and product APPs Click Here
Review Video:
Input: 100~240Vac 50/60Hz
Output: 100~240Vac 50/60Hz 500W Max (each 250W)
Probe Type: R25℃=10KΩ±1% R0℃=26.74~27.83KΩ B25/85℃=3435K±1%
Temperature Control Range: 0.0℃~45.0℃/32.0℉~113℉
Temperature Measurement Range: -5.0℃~50.0℃ /23.0℉~122℉
Temperature Display Accuracy: 0.1℃/℉ (T<100℃/℉), 1℃/℉ (≥100℃/℉)
Temperature Measurement Accuracy: ±1℃/±2℉
Temperature Unit: Celsius ℃ or Fahrenheit ℉
Operating Ambient Temperature:-20℃~60℃/-4℉~140℉
Storage Environment:
-temperature range: 0℃~60℃/32℉~140℉
-humidity range: 20~80%RH (not frozen or condensation)