Beat the Heat With INKBIRD IBS-P02R Pool Thermometer Set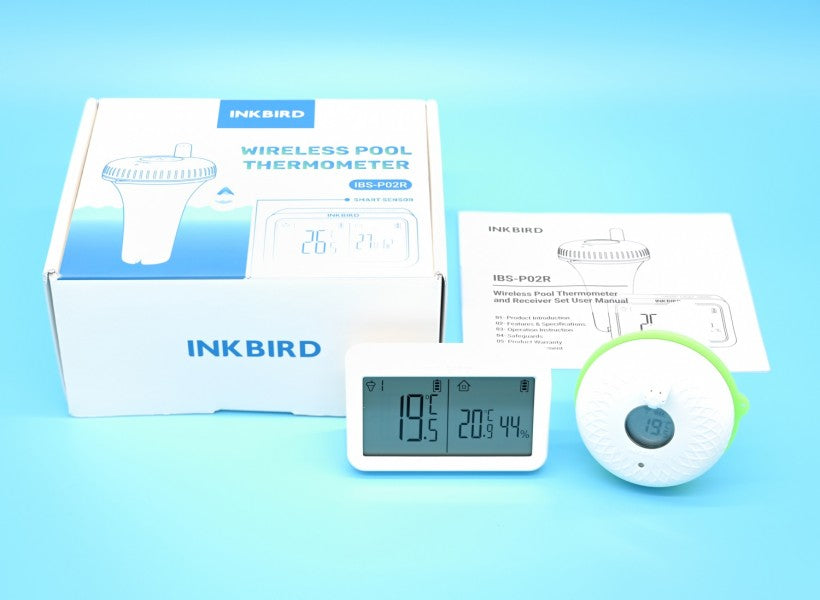 Nothing is more exciting than to dip into the pool on a hot summer day. To ensure a perfect swimming experience, monitoring the optimal pool temperature is necessary. Depending on its purpose, swimming temperature often varies, but the average pool temperature ideal for everyone should be from 25 to 28°C. To check the pool temperature, you need a reliable, digital, and best pool thermometer like INKBIRD's newest IBS-P02R floating pool temperature set.
What Does a Pool Thermometer Do?
A pool thermometer refers to a piece of pool equipment used to monitor the temperature of the pool water.
The best pool thermometers can be adjusted based on various preferences. For competitive swimmers, a floating pool temperature can be essential for setting a cooler temperature for a more refreshing dip. A swimming pool thermometer can help adjust the pool water to a warmer temperature for households with children and senior citizens.
Alongside measuring the pool water's temperature, the best pool thermometer also serves as an indicator of possible hazards. It can help determine whether the water is too hot, which can cause overheating, or is too cold, which might result in hypothermia.
Are Floating Pool Thermometers Accurate?
Monitoring pool water temperature is essential to keep the water balanced and safe for swimming. For starters, opting for an excellent floating pool thermometer can significantly help.
A floating pool thermometer offers fast and accurate readings, especially digital ones like INKBIRD's newest IBS-P02R wireless pool thermometer. It provides both Celcius and Fahrenheit readings which are crucial for quick reference.
INKBIRD IBS-P02R vs. Regular Analog Pool Thermometer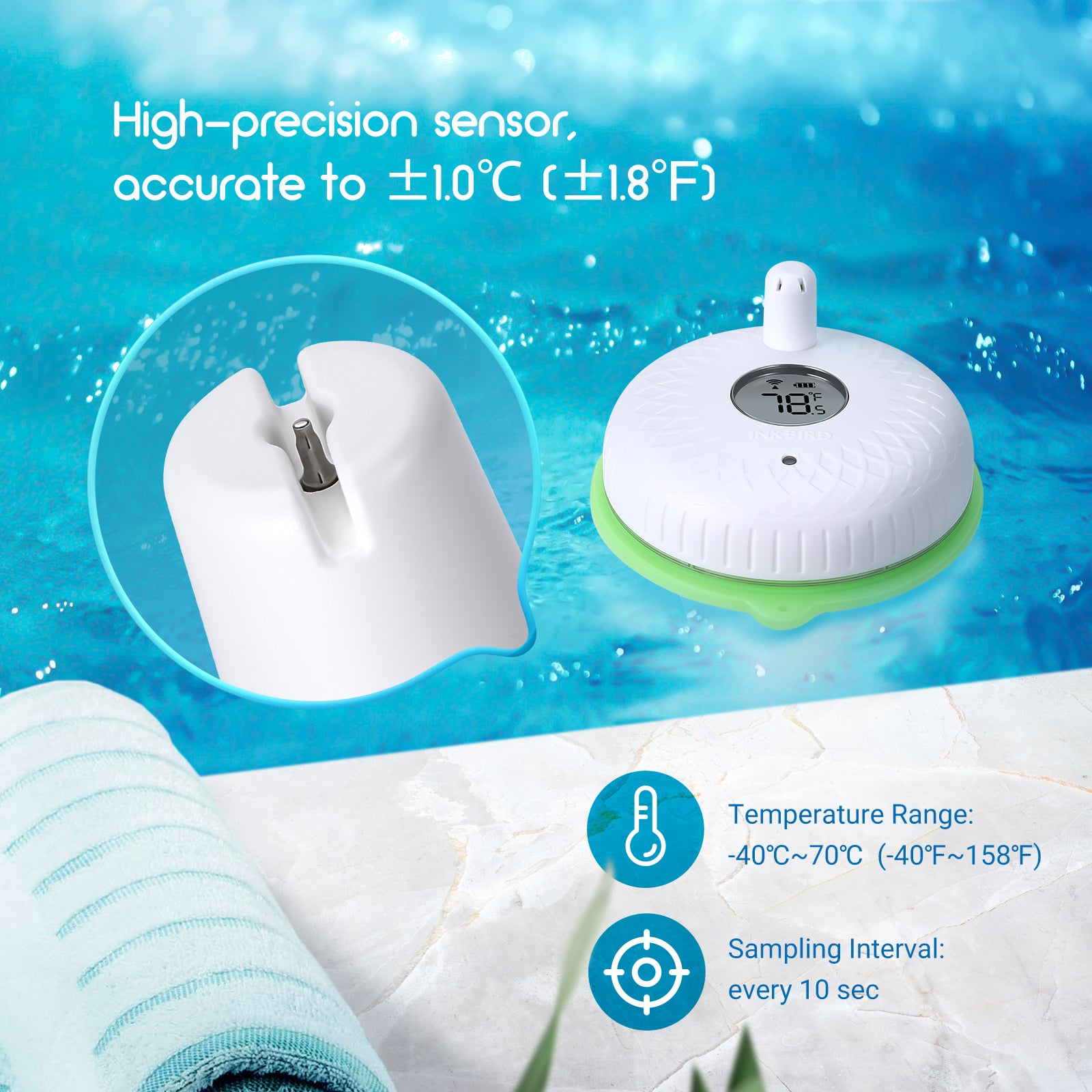 What makes INKBIRD IBS-P02R better than other regular pool thermometers in the market? One of the best things about the IBS-P02R is that it's a floating pool thermometer. Unlike regular hanging pool thermometers which you can only read when you're actually in the pool, the IBS-P02R simply floats on the surface of the pool, making temperature reading easier even if you're standing outside of the water.
Another advantage of the IBS-P02R against regular pool thermometers is that it's digital. Compared to traditional analog pool thermometers which require manual scale reading, digital models like the IBS-P02R provide a faster and more accurate temperature reading.
Last but not the least, another reason that makes the IBS-P02R a better pick is that it comes with a large monitor display for instantaneous temperature reading. Unlike analog thermometers that have to be picked up every time you need to check the temperature, IBS-P02R features a receiver with a wide monitor display that you can use up to 300 feet away from the pool.
INKBIRD IBS-P02R Floating Pool Thermometer Set
Looking for the best pool thermometer in the market? Look no further than INKBIRD's IBS-P02R floating pool thermometer. This all-new battery-powered wireless pool thermometer boasts a large temperature range of up to  -40℃~70℃ (40℉~158℉), making it an ideal choice for indoor and outdoor use. The IBS-P02R also features a large-screen indoor monitor that supports 3-channel monitoring. This enables you to check your pool temperature without the need to go outside, providing convenience, especially during hot days.
Key Features of INKBIRD'S IBS-P02R Floating Pool Thermometer Set
What makes INKBIRD IBS-P02R Floating Pool Thermometer Set better than regular pool thermometers? Check out its key features below:
High-level Water Resistance
Unlike conventional pool thermometers, the IBS-P02R digital pool thermometer guarantees high-level water resistance. It has an advanced IPX7 waterproof body equipped with a heavy-duty silicone sealing ring, making the device more waterproof, impact-resistant, and protected.
Note: the silicone sealing ring is not removable.
The IBS-P02R also features an upgraded indoor monitor that displays temperature in Celsius (°C) or Fahrenheit (°F). With the upgraded monitor, you can check indoor, humidity, and outdoor pool temperatures. It also supports battery life monitoring and the maximum/minimum value.
The all-new INKBIRD IBS-P02R floating pool thermometer set boasts a 4-inch display screen. This has the biggest display screen so far compared to other digital thermometers. With IBS-P02R, you can guarantee better data display and accurate data reading.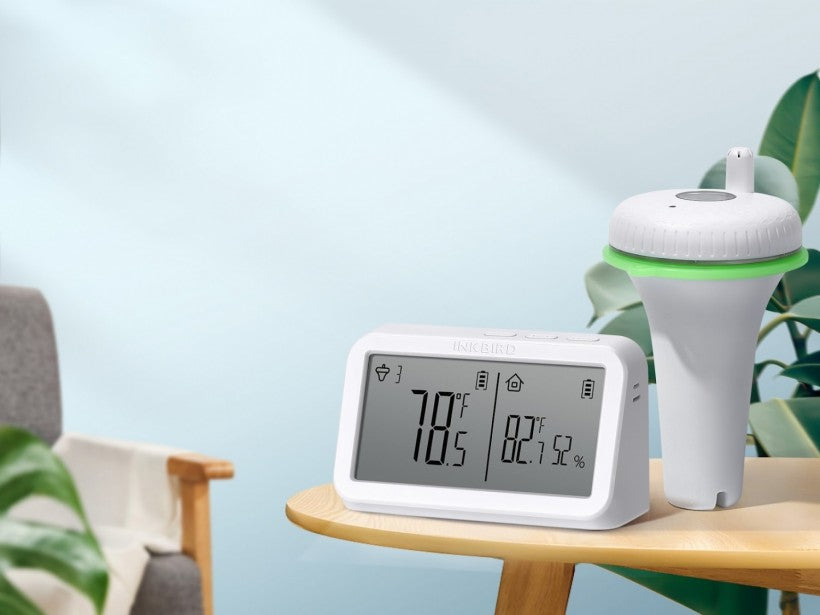 Unlike an ordinary pool thermometer, the IBS-P02R supports stable and reliable long-distance connections of up to 300 feet. With the upgraded indoor monitor, you can even connect three pool thermometers, allowing you to view temperatures simultaneously in different locations.
With IBS-P02R, you can guarantee accuracy like no other. INKBIRD prides itself on its high-precision sensor that provides temperature measurements accurate to ±1℃ (±1.8℉). This powerful thermometer for pools updates data every 10 seconds, giving you access to real-time water temperature.
Wide Range of Applications
Despite its wide range of amazing features, the IBS-P02R is surprisingly easy to use and install. Also, this excellent digital thermometer is suitable for a wide range of applications. It is ideal for swimming pools, hot springs, hot tubs, aquariums, and small ponds, to name a few.
INKBIRD IBS-P02R Floating Pool Thermometer Set: Is It Worth the Money?
Compared to the best pool thermometers in the market, INKBIRD IBS-P02R Floating Pool Thermometer Set comes with an advanced IPX7 waterproof body that guarantees durability, water resistance, and impact resistance. It provides a precise, sensitive, and wireless temperature measurement, ensuring safety and accuracy. INKBIRD IBS-P02R also has a large screen with a connection range of up to 300 feet. The monitor can support three pool thermometers, allowing you to view different temperatures at the same time.
Given the long list of promising features the INKBIRD IBS-P02R offers, it's safe to say that this water pool thermometer is a worthy investment.
Get your hands on the INKBIRD IBS-P02R Floating Pool Thermometer Set.
source: Tech Times