Wi-Fi Indoor Air Quality Monitor IAQM-058W
INKBIRD IAQM-058W is an indoor air quality monitor with a Wi-Fi function, which allows us to remotely monitor all values of CO₂, temperature, humidity, AQI, HCHO, and PM2.5 anytime, anywhere through a smartphone. With its help, we can gain insight into the environment we live in and create an optimal, healthy home for our family.
*The final price is subject to Amazon.
Main Features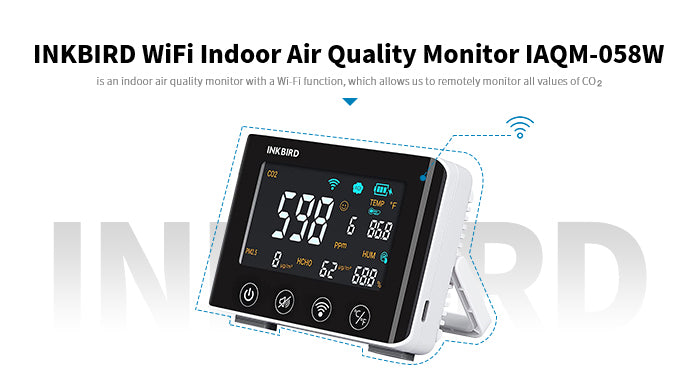 6-in-1 Detector: INKBIRD IAQM-058W is a multifunctional air quality monitor that simultaneously detects carbon dioxide concentration, temperature, humidity, AQI (Air Quality Index), HCHO (Formaldehyde), and PM2.5 (Particulate Matter). With its help, we can clearly understand the air quality of our living environment.
Remote Monitoring: We can remotely monitor the IAQM-058W through a smartphone via a Wi-Fi connection and view up to 7 days of historical data on the graphs. By paying close attention to air quality, we can take precautions to protect our families, especially those with respiratory illnesses.
CO₂ Alarms: We can see three different face indicators on the screen, corresponding to three stages of CO₂ concentration—green for the good stage (400-999 ppm), orange for the normal stage (1000-1399 ppm), and red for the bad stage (1400-5000 ppm). It will alarm us when the detected CO₂ concentration exceeds 1000.
Large Color Screen: IAQM-058W is equipped with a 3.5-inch high-definition color screen, which allows us to view all values at a glance. And the attached stand ensures the best viewing angle when we place the device on the desk. It also adopts a wall-mount design so that we can hang it on the wall for easy viewing.
Ideal For Everywhere: With its sensitive and reliable detection, IAQM-058W helps us monitor the air quality of our homes and is also an ideal CO₂ meter in growing tents, offices, wine cellars, farms, factories, and more. Besides, we can transmit the device data to a computer for further investigation.
Notes:
1) Please turn on the Bluetooth of the mobile phone during connection.
2) We have to use the included data cable to transfer the device data to the computer.
3) We recommend that the device remain connected to the power supply during use.
4) Please download the data transfer PC tool from the INKBIRD official website.

Technical Support Materials:
Please click to download the technical support materials such as user manuals and product APPs Click Here
Bluetooth Version: Bluetooth 5.0
Material: Stainless Steel Probes
Screen: HD LCD Screen w/ Backlight
Battery Type: Li-ion Polymer Battery
Battery Capacity: 1000 mAh / 3.7 Wh
Charging Time: About 3 Hours
Battery Life: About 20 Hours
Bluetooth Range: 150 Feet/45 Meters (Barrier-Free)
Phone System Requirement: Android 4.2/iOS 11 or above
Temperature Units: ℃/℉
Temperature Response Time: 0.1 second (minimum)
Short-time Measurement Range: -30℃~300℃ (-22℉~572℉)
Continuous Monitoring Range: -20℃~250℃ (-4℉~482℉)
Measure Accuracy: ±0.5℃/±0.9℉
Temperature Calibration Range: -7℃~7℃ / -12.6℉~12.6℉