Inline Duct Fan with Smart Controller IVC-001W
INKBIRD IVC-001W has the functions of ventilation, deodorization, dehumidification, and temperature regulation. With its Wi-Fi capability, we can remotely control duct fans anytime, anywhere to create a comfortable living environment for our family, plants, and pets.
*The final price is subject to Amazon.
Main Features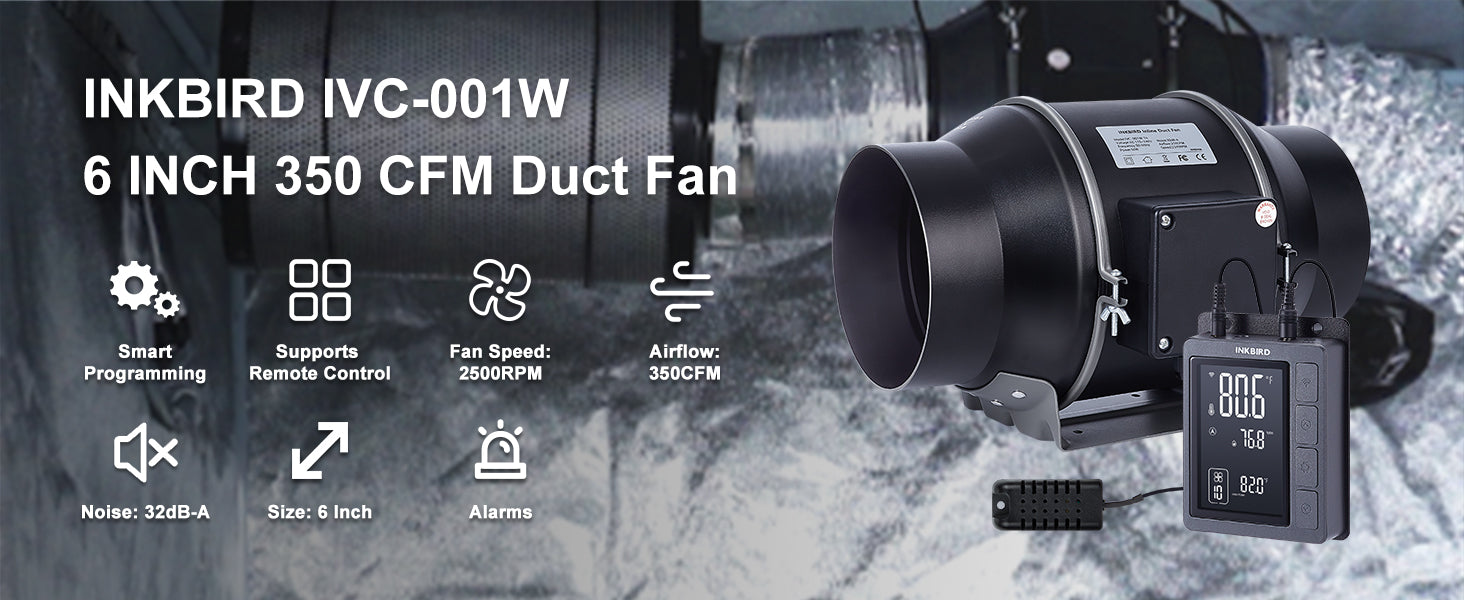 Create A Livable Environment : This inline duct fan with a temperature and humidity probe features a large air volume of 350 CFM, low noise of 32 dB-A, and a fast fan speed of 2500 RPM. Thus, it has the functions of ventilation, deodorization, dehumidification, and temperature regulation, helping us create a livable, comfortable environment for our family, pets, and plants.
Control From Anywhere : The included Wi-Fi-enabled controller allows us to control and monitor the fan operation status on a smartphone, no matter where we are. We can set fan run schedules, check temperature/humidity history, and see alarm records on the smart app. When the detected temperature/humidity reaches our preset value, we will get a notification message on the phone.
Automatic/Manual/Timer Modes : We can run the fan however we want. There are three control modes to run the fan—automatic mode/manual mode/timer mode. In timer mode, we can set 6 individually operating times with different speeds per day for the fan, which helps us regulate the indoor air/temperature/humidity more precisely. The fan speed is variable from 0 to 10.
Efficient Motor, Quiet Operation : This fan adopts an energy-efficient EC motor, which is smaller in size and strong in performance, power-saving and cost-saving. It only produces 32 dB of noise during operation, which is as quiet as we whisper. (The noise test was performed at a distance of 3 meters away from the fan connected to an in-line duct of more than 1 meter.)
Multifunctional Smart Controller : The included controller can connect and control two INKBIRD fans simultaneously. With its high-definition VA screen, we can view the fan status, the current temperature, and the current humidity even in a gloomy environment. Moreover, it supports the child lock function to prevent misoperation and supports the ECO mode, saving power and cost.
Ideal For Any Indoor Grower : This 6-inch inline duct fan is ideal for use in grow tents, basements, kitchens, or anywhere we need to maintain air ventilation and a specific temperature/humidity. This product comes with a 2-year warranty.
Notes :
1. During installation, please ensure that all accessories are installed properly and that the fan structure can withstand the load generated by the fan running at full load.
2. Before use, please ensure that the power supply is disconnected even if this product is powered off.
3. Before plugging in power, please ensure that the voltage and frequency of the main power supply match the data on the product nameplate.
4. Do NOT remove the iron clips on the fan blades as they balance the fan.
5. This product is not suitable for children or frail people, unless supervised by a responsible person to ensure that they can use this product safely.
6. Before use, be sure to remove the equipment residue that may have been sucked into the fan, and clean up the ducts.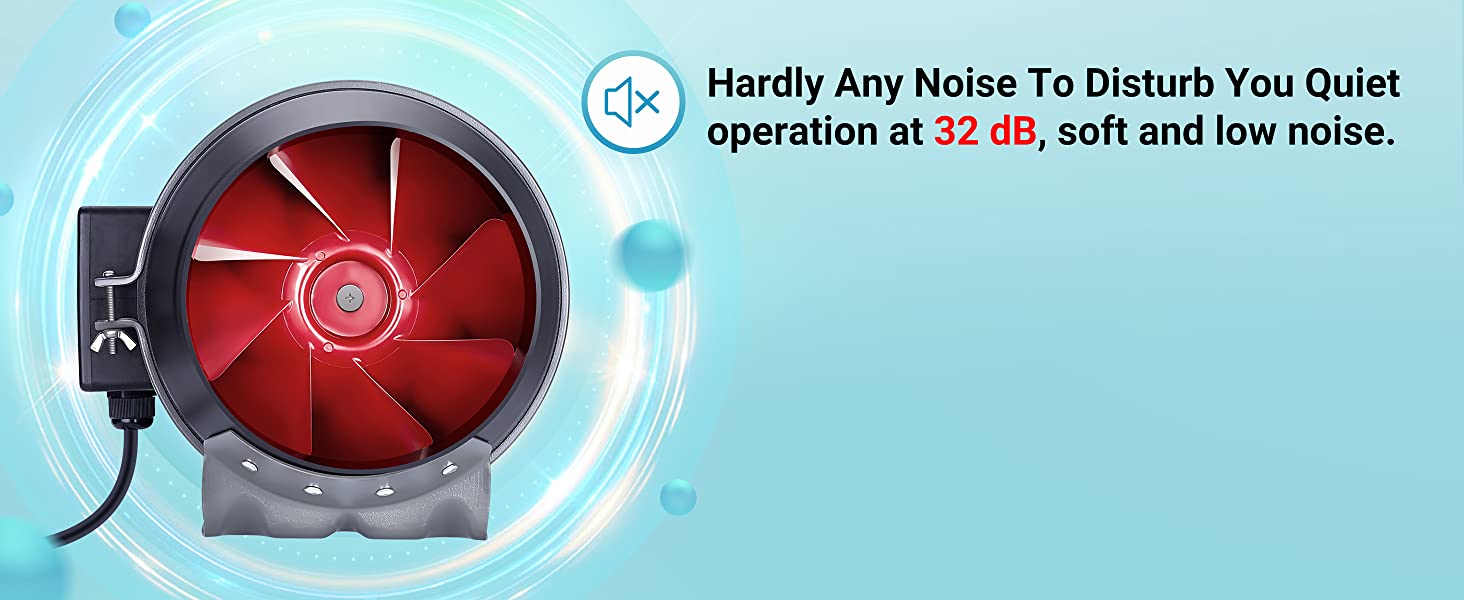 Technical Support Materials:
Please click to download the technical support materials such as user manuals and product APPs Click Here
Duct Fan Power : 110~240Vac 50/60Hz
Smart Controller Power : DC24V
Duct Size : 6 inches
Airflow : 350CFM
Fan Speed : 2500 RPM
Noise : 32dB-A
Temperature Display Accuracy : 0.1℃/℉(<100℃/℉),1℃/℉(>=100℃/℉)
Humidity Display Accuracy : 0.1%RH
Relative Humidity Detection Range : 0~100%RH
Relative Humidity Detection Accuracy (at 25℃) : typical value ±2%RH
Temperature Detection Range : -40℃~100℃/-40℉~212℉
Temperature Detection Accuracy : typical value ±0.3℃/±0.5℉
Working Temperature : Room Temperature
Storage Condition :
Temperature : 0℃~60℃/32℉~140℉
Humidity : 20~80%RH (Unfroze or condensation state)
Product Warranty : 2 Years
AC Cable Length : 1.5 m
DC Cable Length : 2.4 m
Probe Cable Length : 2500 ±30 mm