Digital Timer IDT-E2RH
INKBIRD IDT-E2RH is a dual-time digital timer with two relay outputs, supporting one-shot mode and cyclic mode, two methods of time counting, capable of controlling the working duration of a LED light, water pump, freezer, heater and etc.
*The final price is subject to Amazon.
Main Features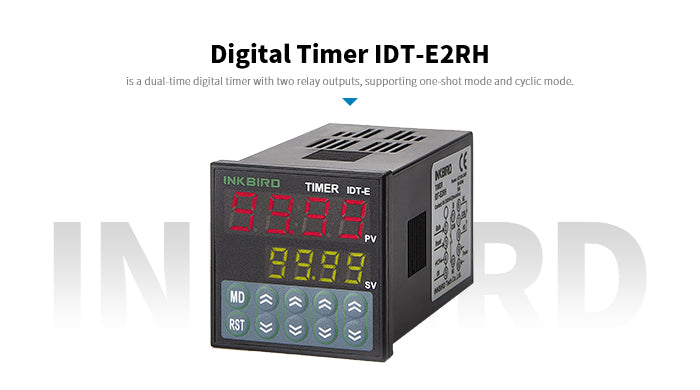 Dual-Period Timer: INKBIRD IDT-E2RH is a digital timer featuring two working periods corresponding to two relays. We can individually set a working duration ranging from 0.01 seconds to 99 hours and 99 minutes for each relay.
One-Shot or Cyclic: We can choose the one-shot mode or cyclic mode to run the whole two periods based on our needs. IDT-E2RH also supports count-up counting and countdown counting, two ways for timing.
Switchable Control Signal: The control signal of IDT-E2RH can be set in NPN (contact/no-voltage input) or PNP (voltage input) mode depending on the sensor we connect, more considerate and more secure than others.
Key-Lock Function: IDT-E2RH adopts light-touch buttons, easy to operate. Meanwhile, it features a key-lock function to prevent unplanned operations and let everything be under control.
Easy-reading LED Screen: IDT-E2RH is equipped with a 0.39-inch-height LED screen, preventing dazzle in viewing and ensuring an extra clear display. We can check the display values clearly, even in a dark place.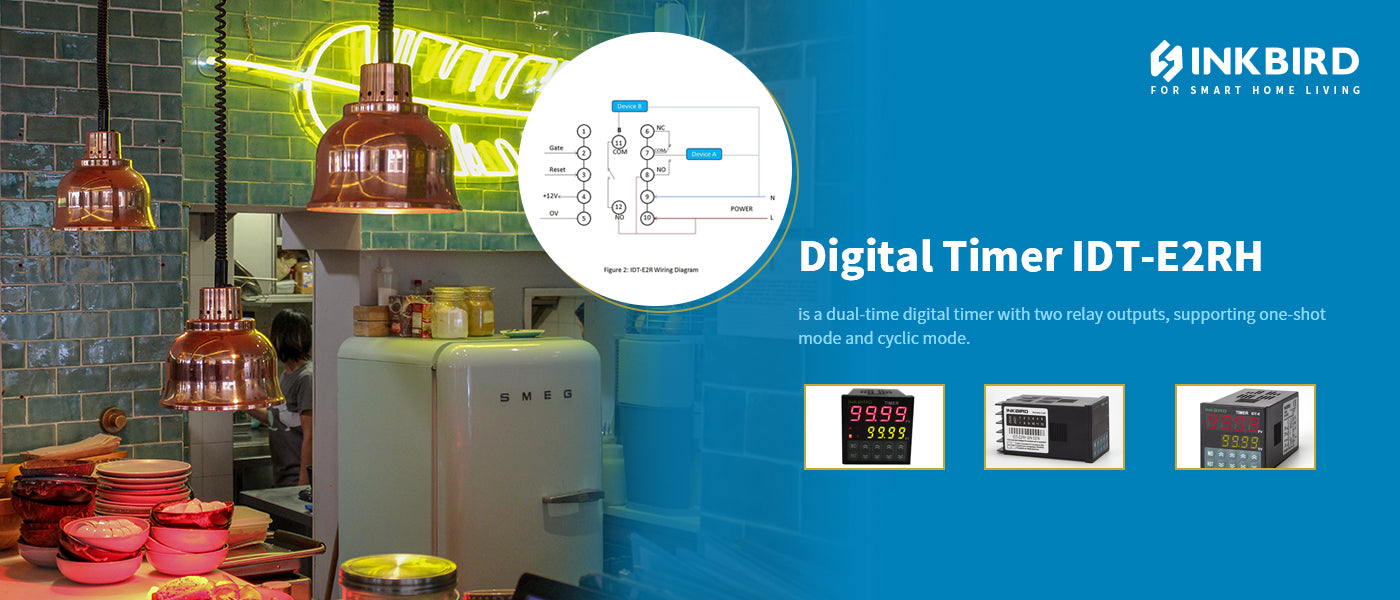 Technical Support Materials:
Please click to download the technical support materials such as user manuals and product APPs Click Here
Front Panel Dimension: DIN 48mm(W)X48mm(L)
Power Supply Voltage: AC 100-240V 50/60Hz
Operating voltage range: 85~110% Rated voltage
Time Range: 0.01s-99h99m time range with twin time set value individual, Up or Down Mode, Output for A, B Period
Character:
PV: 4 digital 9.9mm height Red LED Letters
SV: 4 digital 8mm height Green LED Letters
Contact Output: AC250V 3A(Resistive Load)
A: NO/NC
B: NO
Life expectancy of Relay:
Mechanical 10,000,000 operations min
Electrical 10,000,000 operations min
Accuracy: 0.1% ±0.05s
Control Signals: ≥5ms(Reset, Gate)
Control/Input Type: Contact/No-voltage input(NPN)/Voltage input(PNP)
External Power: DC12V/50mA(Max.) for sensor use only
Reset Method: Power on/External/Manual
Cutout size: 45x45mm
Mounting Method: Flush-mounting and screw terminals
Weight: Approx. 130g
Environmental Conditions: -10~55°C(no icy or condensation), RH 35-85% Humidity