Temperature Controller C206T
INKBIRD C206T is a heating output temperature controller WITHOUT cooling control and specifically designed for breeding and planting. It can be set independent temperatures for day and night, which is widely used for most applications such as aquarium, pets breeding, hatching, fermentation, seed germination, greenhouse planting and etc.
*The final price is subject to Amazon.
Product video
Main Features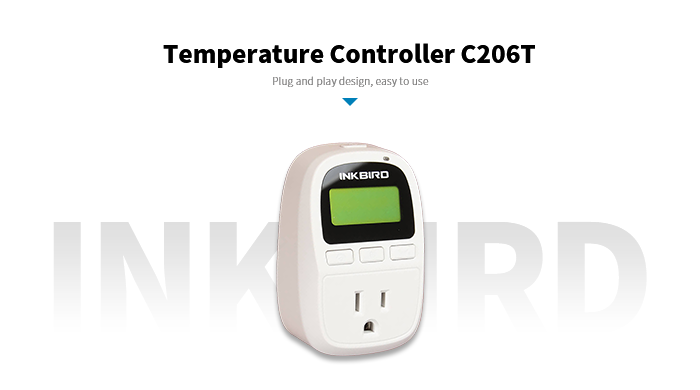 Independent temperatures for day and night: INKBIRD C206T supports independent temperatures for day and night based on our practical needs for our monitored creatures and/or plants, which help us care our monitored creatures and/or plants better. Or we can set two individual temperatures for two time slots based on our practical needs or use contexts.
Waterproof with IP68 Grade: INKBIRD C206T is equipped with NTC stainless probe which is waterproof up to IP68 grade and much friendlier for aquarium or water application contexts.
Overheating protection: INKBIRD C206T will be turned off once the overheating occurs for better protection.
Temperature calibration: INKBIRD C206T supports temperature calibration for more precise temperature setting, monitoring and controlling, offering more security for aquarium creatures;
Three-display screen: its three-display screen can display its current temperature, setting temperature and its current time at the same time, which is very convenient for us to read and to set.
No reading confusion: INKBIRD C206T supports both Celsius and Fahrenheit reading methods, it can be switched based on our reading habits for no reading confusion.
Out-of-the-box: INKBIRD C206T is designed for out-of-the-box and plug-and-play, easy to use, easy to move and easy to store.

Technical Support Materials:
Please click to download the technical support materials such as user manuals and product APPs Click Here
Review Video:
Input : 100~240VAC 50/60HZ
Temperature Control Range : -50-100°C / -58-212°F
Heat Differential Value : 0.3-15°C / 1-30°F
Temperature Calibration : -9.9-9.9°C / -15-15°F
Ambient Temperature : -30~75 °C(-22°F~167°F)
Temperature Accuracy : ±1°C / ±1°F
Ambient Temperature : -30~ 75 °C / -22~ 167 °F