Programmable CO₂ Controller ICC-500T
INKBIRD ICC-500T is a programmable CO₂ temperature controller with double outlets, calibration, alarms and digital displays. B01 Sensor widely applied in agricultural and livestock industries, greenhouses, industrial fields and general ventilation HVAC. S01 Sensor widely applied in ventilation system, building control and HVAC equipment.
*The final price is subject to Amazon.
Product video
Main Features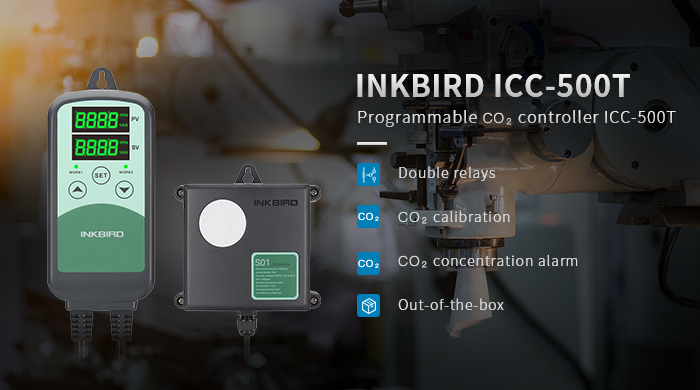 Double relays: INKBIRD ICC-500T is equipped with two relays WORK 1 and WORK 2. WORK 1 is for CO₂ regulator or generator, while WORK2 is for exhaust fan.
CO₂ calibration: INKBIRD ICC-500T supports CO₂ calibration for more precise CO₂ setting, monitoring and controlling.
CO₂ concentration alarm: INKBIRD ICC-500T is programmable for CO₂ concentration alarms, which will be triggered once the CO₂ concentration reaches the set high/low values for safe and more efficiency.
Dual display screen: it has one dual display screen to display its display measured CO₂ and setting CO₂ values simultaneously, much easier for CO₂ monitoring.
Out-of-the-box: INKBIRD ICC-500T is designed for out-of-the-box and plug-and-play, easy to use, easy to move and easy to store.
Reliable: CE&FCC certificated, reliable for use.
Technical Support Materials:
Please click to download the technical support materials such as user manuals and product APPs Click Here
Review Video:
Input Power : 100~240Vac 50/60Hz 10A MAX
Output Power : 100~240Vac 50/60Hz 10A MAX (two sockets)
Disconnection Method : Type 1B
Automatic Operation : 6000 cycles
Ambient temperature:
Working Environment : room temperature
Storage Temperature : 0℃~60℃/32℉~140℉
Storage Humidity : 20~80%RH (No freezing or condensation)
Warranty Period : 2 years