Waterproof Grill Thermometer IBT-4XC
INKBIRD IBT-4XC is a waterproof and Bluetooth meat thermometer with wireless control, temperature alarm, built-in magnetic back, wide temperature range, high temperature accuracy, rotatable Reading Display and rechargeable battery and etc. It is widely used for oven, BBQ, grill and other cooking contexts.
*The final price is subject to Amazon.
Product video
Main Features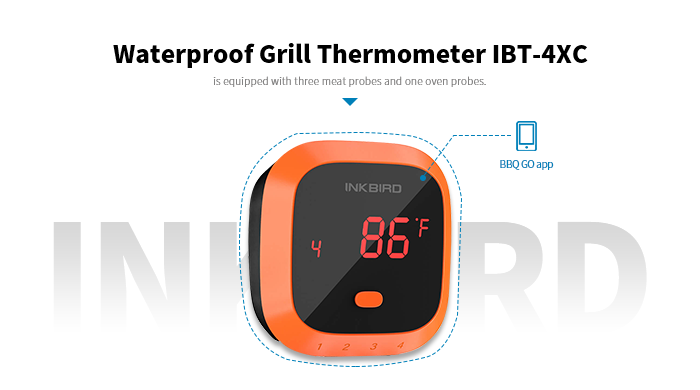 Wireless control: INKBIRD IBT-4XC can be controlled by Bluetooth connection via its free APP and we can monitor, set and/or adjust its temperatures on our mobile phones at any time, no time to be wasted for making frequent checking, more efficient and convenient. Its Bluetooth connection range is up to 150ft/50M. Notice: the GPS location service of our mobile phone needs to be turned on before we pair INKBIRD IBT-4XC with our mobile phone.
Ipx5 rated waterproof: INKBIRD IBT-4XC is waterproof with IP X5 and it could be used indoors and outdoors even in rainy days, which makes it a best choice for picnic cooking.
Magnetic design: INKBIRD IBT-4XC adopts magnetic design on its back for more user friendly and we can place it to any metal surface based on our practical needs. Efficiency improved and more help for BBQ and/or grill.
LED screen and rotatable reading method: INKBIRD IBT-4XC adopts LED screen and rotatable reading method for more user friendly. We just need to double tap its rotatable button to rotate its reading direction, which frees its place and storage direction.
Rechargeable battery: INKBIRD IBT-4XC adopts a built-in 1000mAh lithium battery which can last about 60 hours with fully charge. Don't need to spend extra money on replacing batteries any more. Less spending for longer battery life and longer using time. Notice: charging is forbidden in the course of usage.
High temperature accuracy: its temperature accuracy is up to ±2℉/±1℃. No need to worry our cooking overdone or under cooked.
Out-of-the-box: INKBIRD IBT-4XC is designed for out-of-the-box and plug-and-play, easy to use, easy to move and easy to store.

Technical Support Materials:
Please click to download the technical support materials such as user manuals and product APPs Click Here
Review Video:
Temperature Range : 0~250°C /32~482°F
Temperature Accuracy : ±1°C / ±2°F
Bluetooth wireless Range : 50 meters / 150ft
Alarm : Over Temperature Alarm/Range Alarm/Time Count-down alarm
Display : LED screen&APP
Probe Number : Up to 4 probes
Battery : Built-in 1000mAh lithium battery
Dimension Body : 83x83x28mm (3.3x3.3x1.0 inch)
Sensor Length : about 150cm / 4.9ft
Net Weight : 380g
Gross Weight : 410g
Warranty : 12 months