Main Features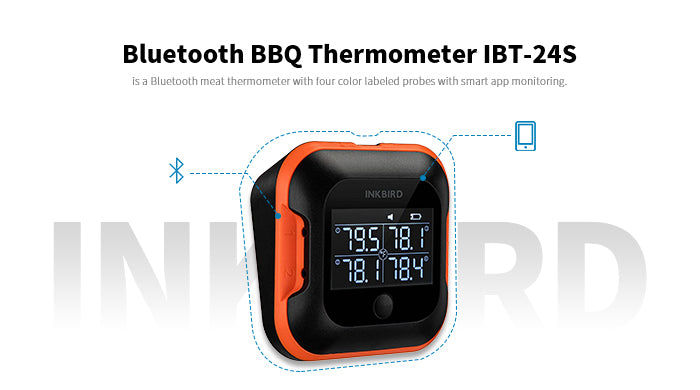 Four-Probe Monitoring: INKBIRD IBT-24S features four stainless steel probes labeled in four different colors for simultaneously monitoring four different types of food without confusion. All probes are designed with a high measurement accuracy of ±0.5℃/±0.9℉.
App Remote Control: We can connect IBT-24S with our phone via Bluetooth to monitor temperatures via the app in a barrier-free range of 150 feet (45 meters). Moreover, we can track all the temperatures through historical graphs.
Alarm & Countdown Timer: IBT-24S supports high-temperature and low-temperature alarms to alert us when the preset temperature is reached. Temp alarms support single-trigger and repeat-trigger modes. Also, it features countdown timers helping us grill tasty meat at the exact time.
Easy to Use, Easy to Read: IBT-24S adopts a large LCD screen with high brightness, high contrast, and full reading angle, which helps us check all the temperatures of four probes at one glance, even in the dark. Besides, it's embedded with a magnetic back for easy storage and reading.
Long Working Duration: IBT-24S is designed for a long time of continuous use. With a large battery capacity of 1000 mAh, it could work for about 20 hours in full charge. Therefore, it avoids sudden blackouts in grilling and affords stable temperature measurement.
Large Temperature Range: IBT-24S features two ways of temperature measuring supporting two different measuring ranges— Short-time measurement range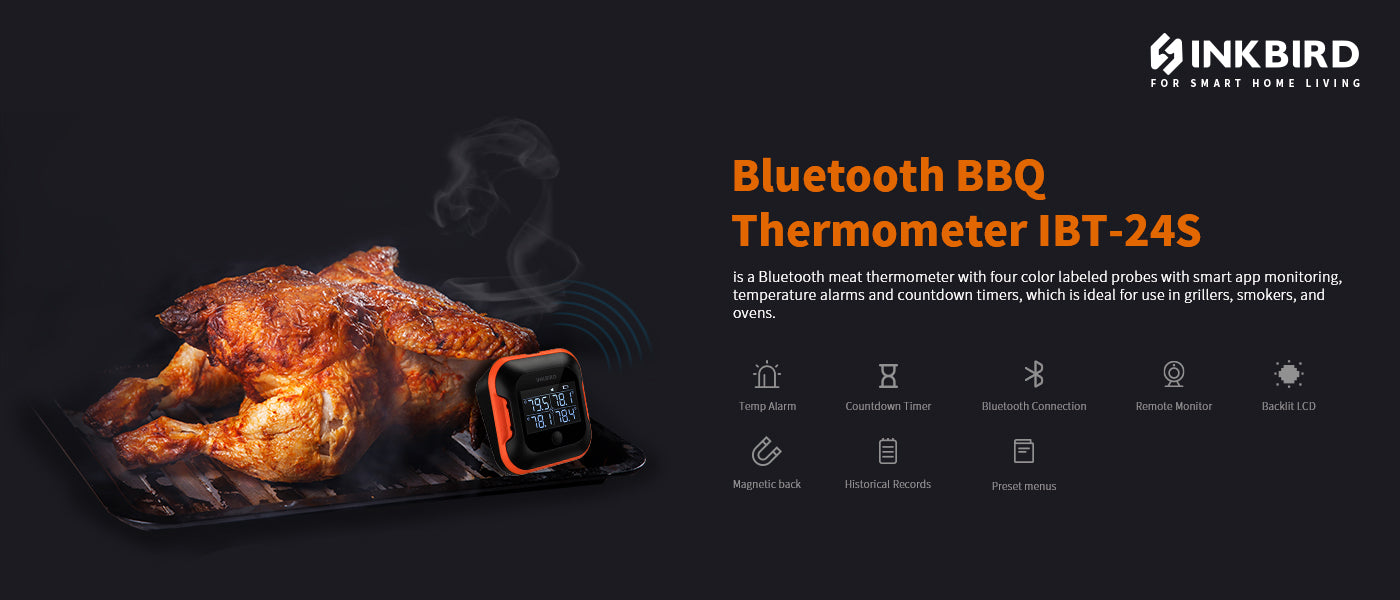 Technical Support Materials:
Please click to download the technical support materials such as user manuals and product APPs Click Here
Bluetooth Version: Bluetooth 5.0
Material: Stainless Steel Probes
Screen: HD LCD Screen w/ Backlight
Battery Type: Li-ion Polymer Battery
Battery Capacity: 1000 mAh / 3.7 Wh
Charging Time: About 3 Hours
Battery Life: About 20 Hours
Bluetooth Range: 150 Feet/45 Meters (Barrier-Free)
Phone System Requirement: Android 4.2/iOS 11 or above
Temperature Units: ℃/℉
Temperature Response Time: 0.1 second (minimum)
Short-time Measurement Range: -30℃~300℃ (-22℉~572℉)
Continuous Monitoring Range: -20℃~250℃ (-4℉~482℉)
Measure Accuracy: ±0.5℃/±0.9℉
Temperature Calibration Range: -7℃~7℃ / -12.6℉~12.6℉