Main Features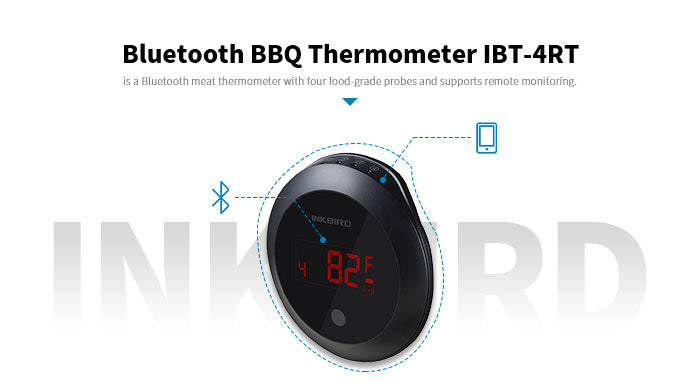 Rotational LCD Screen: INKBIRD IBT-4RT is equipped with a large LCD screen that supports a rotating display, helping us read the temperatures normally in any situation. The screen will display the measured temperature of each probe in the repeating cycle.
Remote Control via Bluetooth: We can connect IBT-4RT with our phones via Bluetooth and control it on the phone app, including 11 kinds of preset menus, high-and-low temperature alarms, calibration and temperature graphs.
Historical Data Restore: Every time IBT-4RT is reconnected to our phones, the data during the disconnection period (Up to 3 days) will be restored on the app, no more worries about data loss.
4 Color Coated Probes: All probes are marked with different colors and made of food-grade stainless steel that resists heat and corrosion. Each probe can be set individually to meet various cooking needs of different food.
Accurate & Fast Reading: With the premium probes, we will get accurate results (±1℃/±1.8℉) in 2 seconds. Probe Short Time Measurement Temperature Range
1000mAh Rechargeable Battery: IBT-4RT can last at least 24 hours with the highest brightness and 72 hours with the lowest brightness. It takes approximately 3.5 hours to fully charge the battery. We can adjust the screen brightness according to different usage scenarios.
Magnet Adsorption: For easy storage, we can attach IBT-4RT to metal surfaces in household appliances like ovens, refrigerators, or smokers. Please do not let IBT-4RT come into direct touch with flames or surfaces with a temperature exceeding 55℃/131℉.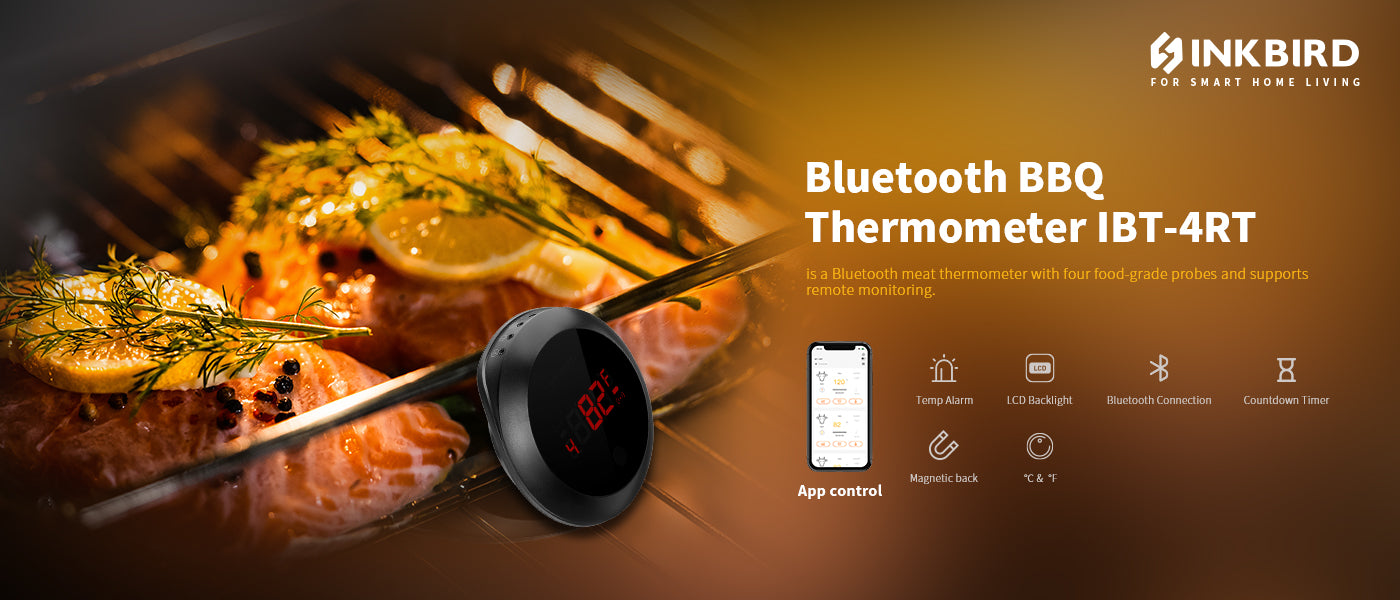 Technical Support Materials:
Please click to download the technical support materials such as user manuals and product APPs Click Here
Review Video:
Model: IBT-4RT
Dimensions: 111mmX111mmX31mm
Net Weight: 142g
Screen Size: 56mmX24mm
Screen Type: Red Digital Tube
Magnetic Suction Grade: N30
Power: Li-Ion Polymer Battery
Battery Capacity: 1000mAh / 3.7Wh
USB Type-C Input Voltage: DC 5V
USB Type-C Output Voltage: 500mA Standard
Bluetooth: Bluetooth BLE4.2 (app dependent)
Operating Temperature Range: -10℃~+55℃
Temperature Unit: ℃/℉
Temperature Calibration Range: -7℃~+7℃/-12.6℉~+12.6℉ (app dependent)
Respond Time (min): 0.1sec
Temperature Refresh Rate: 4Hz
High/Low Temperature Alarm:Set max and min values for the device, then it will alarm synchronously with the app if the measured temperature is out of the range.
Alarm Setting: Mute mode or alarm mode.
Alarm Mode: Single edge trigger mode/repeat trigger mode.
Alarm Interval: can be set in repeat trigger mode.
Probe Connector: Jack 2.5mm mono plug 11mm
Number of Probe Channels: 4
Probe Continuous Monitoring Temperature Range: -20℃~+250℃
Probe Temperature Resolution: 0.1℉
Probe Temperature Accuracy
25℃~+140℃: ±0.5℃(maximum)
0℃~+185℃: ±1.0℃(maximum)
-10℃~+250℃: ±1.5℃(maximum)
-20℃~+300℃: ±2.0℃(maximum)
Probe Color: Depends on the app
Temperature Graph: Internal flash memory storage, saves the temperature data of the last 3 days
System Requirement: Android 4.2 or later, iOS 11 or later
Bluetooth: BLE 4.2
Radio Frequency: 2400-2483.5MHz
Maximum Output Power: +10dBm