Digital Hygrometer ITH-20
INKBIRD ITH-20 is an indoor thermometer integrated with hygrometer having functions such as temperature and humidity displaying, temperature and humidity records, Celsius and Fahrenheit reading methods, two installation methods, comfort indicators and default values, which is widely used for household, guitar case, green house, office, labs and etc.
*The final price is subject to Amazon.
Product video
Main Features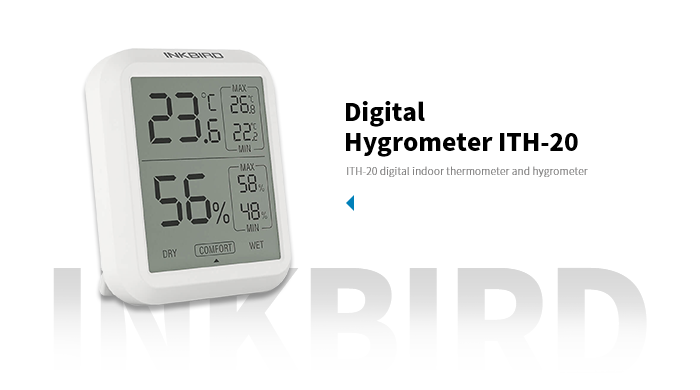 Temperature and humidity displaying: INKBIRD ITH-20 supports to display temperature and humidity simultaneously, we can monitor them both easily.
Temperature and humidity records: INKBIRD ITH-20 offers saving and recording the maximum and minimum values of temperature and humidity, which offers us helpful references for our subsequent use contexts.
No reading confusion: INKBIRD ITH-20 supports both Celsius and Fahrenheit reading methods, we can switch them easily based on our reading habits, no more reading confusion anymore.
LCD display screen: INKBIRD ITH-20 adopts LCD display screen to show temperature and humidity and divides it into two parts, one to display temperature and the other to display humidity, besides, it applies comfort and user friendly indicators, which makes it cozy and comfortable to use.
Two installation methods: We can place it on the desk or mount it into the wall based on our practical use contexts or our habits, which makes it more user friendly and humanized.
Measuring range: its temperature measuring range is -10℃~50℃ (14°F~122°F), while its humidity measuring range is 10%~99%RH with its sampling period of 10 seconds, which makes it very suitable for most application contexts such as household, guitar case, green house, office and labs.
Physical keys with more tactility: INKBIRD ITH-20 adopts physical keys for operation with more product tactility. It has 3 buttons on the back, [LCD ON/OFF] to turn on/off LCD display, [CLEAR] to clear the memory of MAX/MIN data, [℉/℃] to switch ℉/℃ reading method.
Technical Support Materials:
Please click to download the technical support materials such as user manuals and product APPs Click Here
Temperature Measurement Range: -10℃~50℃ /14°F~122°F
Humidity Measurement Range: 10%~99%
Humidity Display Accuracy: 1%
Temperature Display Accuracy: 0.1℃ /0.1°F
Temperature Measurement Accuracy: ±1.0℃
Humidity Measurement Accuracy: ±5%
Dimensions: 64mm x 75mm x 20mm
Weight: 47g
Temperature and humidity sampling period: 10 seconds
Out of range display "HH.H"or"LL.L",sensor Error,display"-- -- .--"
Dimensions: 64mmx75mmx20mm
Battery: 2xAAA (no included)
Real-time temperature and humidity display, MAX/MIN displays on the same screen
LCD: can be turned off
Warranty: 1 year
(DRY): Relative humidity below 40% RH at any temperature
(COMFORT): The temperature range is (20 ~ 30 )℃ the relative humidity is (40 ~ 70 )% RH
(WET): Relative humidity above 70% RH at any temperature
Two ways of placing, the first one has hanging design , easy to hang on the wall, easy to read. The second has back holder placed on the desktop, lightweight and simply. And the battery is replaceable.