INKBIRD ITC-308 Digital Thermostat: Should You Buy?
The INKBIRD ITC-308 digital temperature controller is a popular thermostat in the reptile and amphibian hobby. It is used with a heating element (heat mat, ceramic heat emitter, or bulb) to maintain the temperature within a pet's enclosure.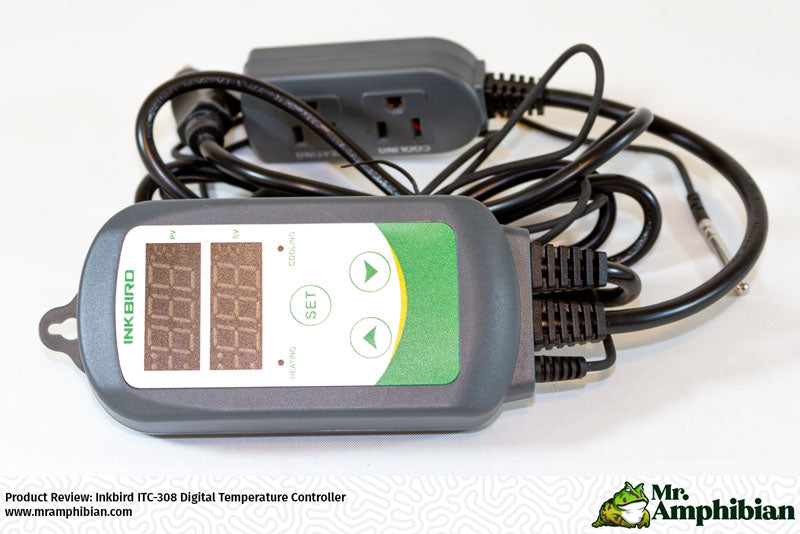 It's an ON/OFF style thermostat with both heating and cooling receptacles. You can find them online for around $35 USD. The question is: Should you buy one or get something different? That's the question I'll answer in this review.
To provide you with the best possible review, I purchased the INKBIRD ITC-308 on Amazon and tested it myself!
Is It Worth Buying?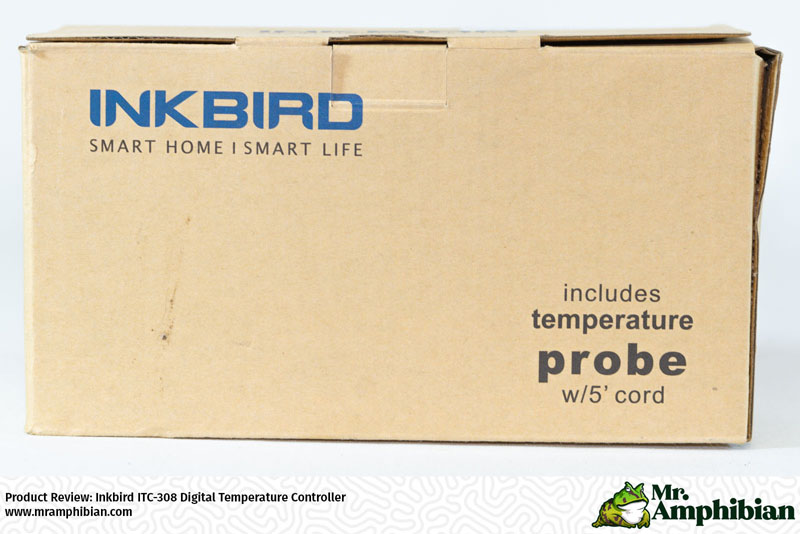 This thermostat is absolutely worth the money, provided you can find it for around $35. By the way, I bought 5 different thermostats for the sake of reviewing, comparing, and creating a buyer's guide. This one is among the top two or three.
It sports dual receptacles for heating and cooling. The cooling part isn't always useful in herptile husbandry, but it can still be useful. Moreover, you don't have to use the cooling socket.
Programming the thermostat is fairly simple and the probe (temperature sensor) is lengthy and easy to work with. Simply place it where you want to read the temperature and you're good to go.
Pros
Easy setup
Handles up to 1000 watts
Heating & Cooling receptacles
Fahrenheit or Calcius
Digital Display
12 Month Warranty
Accurate within 2 °F
Max temperature at 248 °F
Cons
1 Heater Receptacle
I honestly put effort into thinking of the multiple cons but came up empty-handed. It felt like I was looking for something to complain about.
I want to say "the cooling receptacle isn't very helpful" but if you don't need it you don't have to use it. Some situations benefit from a cooling element and as such, this feature is incredibly beneficial.
Should you buy it? Yep! I would happily buy another one and I feel comfortable recommending this product to you. Actually, there is an updated Wifi ITC-308 nowadays. Keep reading to learn more.
My Experience With The INKBIRD ITC-308 Digital Temperature Controller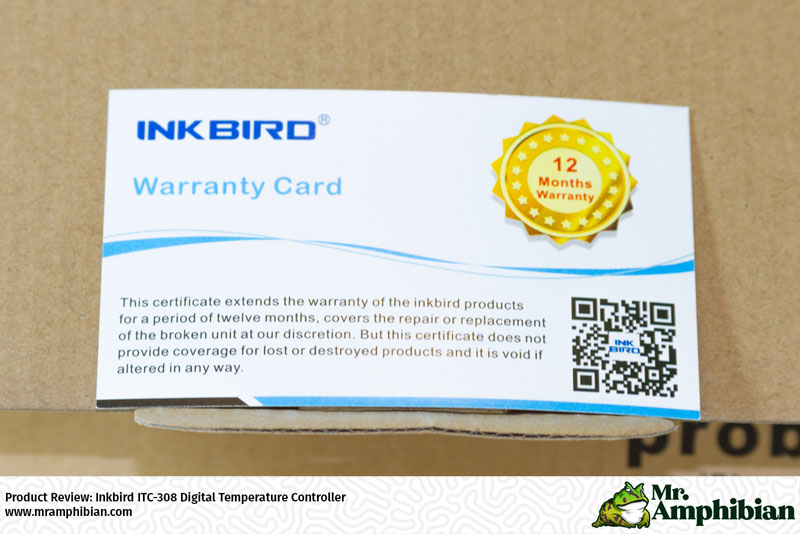 One of the first things I noticed when unboxing the ITC-308 was the warranty card (pictured above). The thermostat design looks nice but it's nothing exceptionally different from all the others.
I assume all INKBIRD products come with a warranty but I don't know this for sure. Mine came with the warranty card in the box.
It says "This certificate extends the warranty of the INKBIRDproducts for a period of twelve months, covers the repair or replacement of the broken unit at our discretion." There is a QR code on the front and more information on the back. I assume you need to register it before the warranty applies.
Programming the ITC-308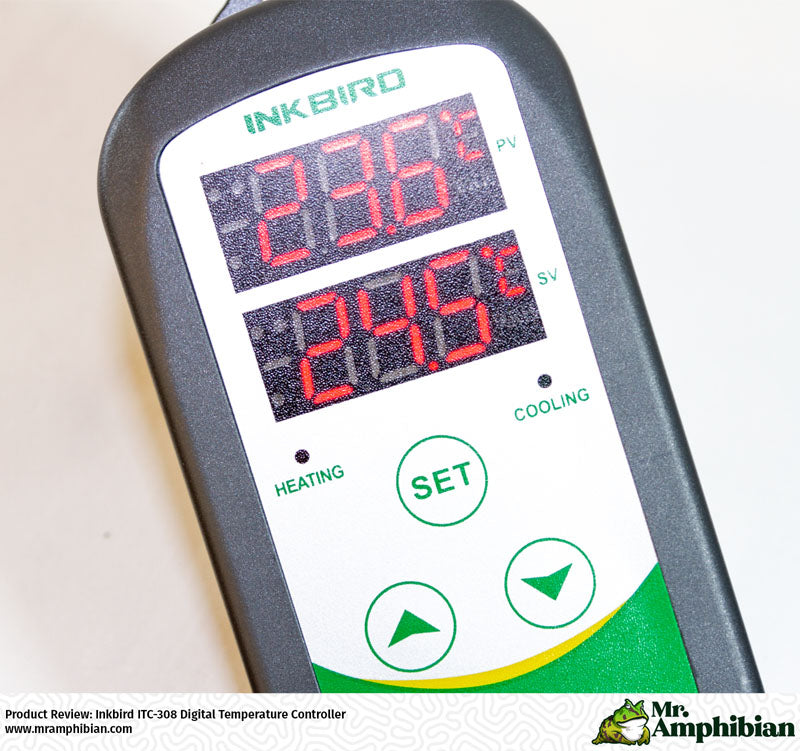 Programming the ITC-308 is fairly straightforward but you will need to learn how it works first. Out of the box, mine was set to Celcius. Because I live in the United States, I'm more familiar with Fahrenheit. It wasn't immediately obvious to change it.
I'll briefly explain the controls below:
Hold "SET" for 3 to 4 seconds to begin programming.
Two digit codes appear on the top screen. Control the settings by using the up/down arrows.
Once you're in the programming mode, you can press the "SET" button again to switch to other settings.
"TS" stands for Temperature Set. This is the temperature you want the enclosure to stay at.
"HD" stands for Heating Difference. This is how many degrees you will allow the temperature to fluctuate from the temperature set value.
"CD" stands for Cooling Difference. This works like the heating difference but pertains the cooling element.
"CF" stands for Celcius/Fahrenheit. This settings allows you to switch the temperature mode.
This isn't a how-to tutorial about using the INKBIRD ITC-308 but the bulleted section above will give you an idea of how to use it. It takes about 5 – 10 minutes to program and set up.
The Probe and Dual Receptacle Plugins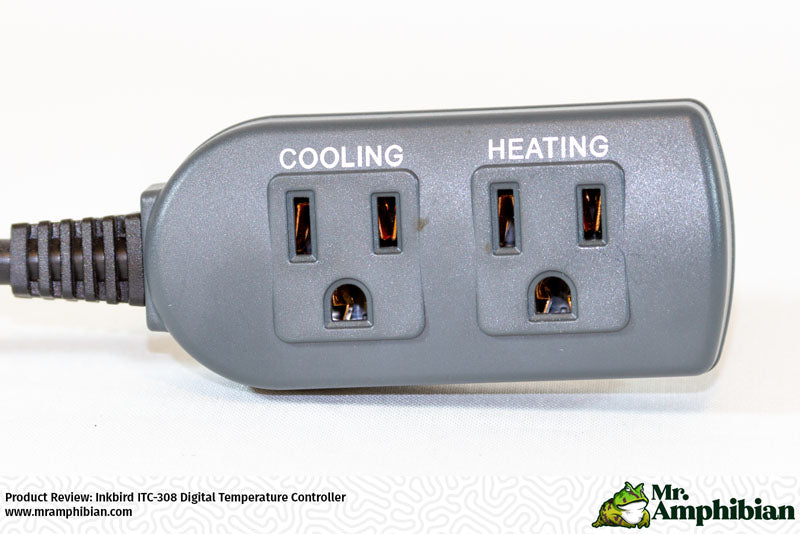 The most unique feature of this thermostat is the ability to use a cooling element. Now, most reptile thermostats control heaters only. That's because cooling elements are relatively uncommon in the industry.
In fact, the only meaningful cooling device I know of are fans. Using fans in this hobby is problematic for two main reasons. 
One, frogs are small, and placing a fan inside their enclosure can be fatal. You need to create a barrier to protect the inhabitant. A small fan on the outside pointed in is more common.
Two, fans will help cool the enclosure but they also decrease the humidity. Lowering the humidity can be problematic without having some way of combating it.
So, that's why the cooling element might go unused for reptile and amphibian hobbyists. Still, it's a great feature for the rare chance you use a cooling fan in your terrarium.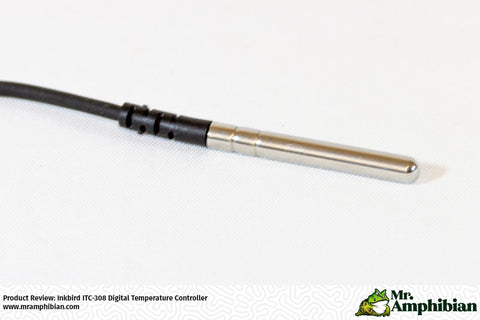 The temperature sensor is an average probe, comparatively speaking. What I like about it is that the cable isn't overly stiff. It's easy to work with and placing it where you want is simple.
Updated Version: Wifi ITC-308
After testing and writing this review, I learned of the new and improved ITC-308. It connects to wifi and apparently has an INKBIRDSmart App for controlling the temperature remotely.
Sadly, I haven't tested this wifi version so I can't say whether it's good or bad. I can say, however, if its quality is similar to the non-wifi version, then it's great and highly recommended. After all, who wouldn't want the ability to monitor the temperature inside their beloved amphibian's enclosure from their smartphone?!
My Final Rating: INKBIRD ITC-308 Thermostat
I'm a fan of this thermostat and feel comfortable recommending it to you. The cooling receptacle might go unused but that's not a big deal.
The power cords are sturdy and lengthy, it's simple to program, and placing the temperature sensor is easy. Moreover, the ITC-308 safely controls up to 1000 watts.
My overall rating is 4.5 out of 5.
I can honestly say I have no real complaints about the ITC-308. Compared to other reptile thermostats, the only thing it lacks is multiple sockets for more than one heating element. If that's something you're looking for, I recommend checking out my review of the Zilla analog thermostat. Otherwise, this one is a great product!
TLDR; Should I Buy an ITC-308?
The INKBIRD ITC-308 is a solid thermostat for amphibian husbandry. It safely handles up to 1000 watts and controls both heating and cooling elements accurately (within 2 degrees Fahrenheit).
If you actually need a cooling element for your frog enclosure, this is absolutely the thermostat for you. If a cooling element isn't necessary (and it usually isn't) this is still a good temperature controller.
Source: mramphibian. Com
This article may be:
(a) writen by INKBIRD team and the copyright and intellectual property belongs to INKBIRD, article share is forbidden without permission;

(b) shared by INKBIRD team and the copyright and intellectual property belongs to the original writer. If you find we infringe your copyright and intellectual property, please contact

marketing@inkbird.com

and we will delete it from our platform immediately once we confirm the infringement.

(c) writen by others and authorized INKBIRD by the original writer to share, the copyright and intellectual property belongs to the original writer.

If you have any question, disputes and/or suggestion, please contact

marketing@inkbird.com

and we will contact you ASAP once we receive your e-mail. Thank you!